Conference on Ending Homelessness Report Back
Posted July 31, 2013 - 4:28pm
Ben Miksch, State and Federal Policy Associate
Last week, the National Alliance to End Homelessness (NAEH) held their annual Conference on Ending Homelessness in Washington, D.C. And Michele, Kevin, and myself were able to join more than 50 other people from Washington State to attend the conference.
I'm sure NAEH didn't realize this when they set the dates for the conference a year ago, but the timing couldn't have been better. Not only did we fly in right after the heat wave broke and got to enjoy some unseasonably cool weather for July in D.C., but we also were in the nation's capitol as the House and Senate both started major debates on budgets for transportation and housing. The legislature handles these two issues together each year in the Transportation, Housing & Urban Development (THUD) appropriations bill.
Like last year, the conference itself was a whirlwind of expert workshops on policies for how we can end homelessness. Also like last year, NAEH set aside the last half of the last day for "Hill Day," so that people who'd made the trek all the way out to D.C. had time to visit their legislators and talk about the importance of federal programs that help us build affordable housing and prevent and end homelessness.
We had almost half of the people from Washington State join us at the Capitol to meet with our legislators. We packed into meeting rooms that were bursting at the seams with advocates and talked about all the amazing, innovative, wonderful things we're accomplishing in almost every community in our state. We also talked about who sequestration has been hurting. Our delegation made a firm stand in telling our legislators that balancing the budget by cutting programs serving the most vulnerable in our communities is tragically misguided.
Unfortunately, I can't say the news we heard in D.C. was good. Right now, lawmakers are discussing two wildly different funding bills for HUD. The Senate's bill, based on the budget that our Senator Patty Murray authored, uses increases in revenue to cancel sequestration and invest in the safety net. It is a great bill, but will have a very hard time in the House. The House's funding bill, based on Paul Ryan's budget, undoes sequestration cuts to defense by doubling down on cuts to the safety net. It is frankly a pretty disgusting proposal that would have unimaginable consequences if enacted. Luckily, it also has little chance if ever of passing the Senate.*

What seems likely is that we will end up with another Continuing Resolution this October, which is a fancy way of saying "Just take the budget for 2013 and write 2014 on the front." But remember the 2013 budget is basically the 2012 budget with 2012 crossed out and 2013 written on it. Even though the House and Senate appropriations bills probably themselves won't become law, the discussion about what is in them, how they get amended, and what happens to them is still very, very important.



What seems to be the current state of the federal budget.
A Continuing Resolution would likely include small changes called "anomalies," which can have very significant impacts on our programs – both good and bad. For example, the 2013 Continuing Resolution included several anomalies that increased funding for Public Housing Authorities and for McKinney Vento Homeless Assistance Grants instead of leaving them at the 2012 funding levels. This is a very good thing.
More good news is that we had some amazing meetings, especially with our three freshman Members of Congress (Representatives Kilmer, Heck, and DelBene). And it's safe to say that most of the Washington State Congressional Delegation gets it. They understand how bad sequestration is, and they are fighting for budgets that invest in the safety net and protect the vulnerable in our communities. After meeting with just about every elected official Washington has sent to D.C., it's good to know we have a strong allies and champions in D.C.
That doesn't let us off the hook though. Our job as advocates isn't easy, but you don't sign up to change the world because you're looking for easy! Making sure that everyone in Washington has access to a safe, healthy, affordable home is a goal that's worth fighting for. A good place for us all to start is by calling Senator Patty Murray's office and thanking her for fighting for a budget that ends sequestration and invests in affordable housing and programs that end homelessness. I just made the call. I hope you do too. Her number is 202.224.2621.
Keep advocating Washington!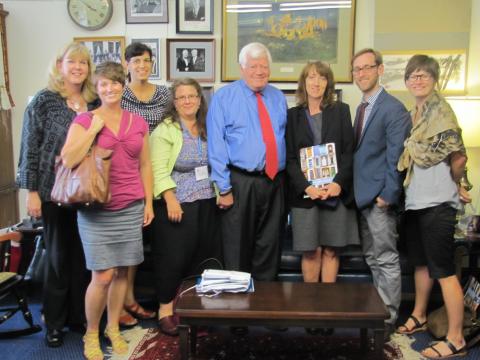 L to R: Terry Pottmeyer, Julie McFarland, Nicole Macri, Alison Eisinger, Jim McDermott (WA-7th),
Catherine Hinrichsen, Ben Miksch, and Megan Gibbard
*Update: It looks like the cuts are so bad that the bill may not even end up passing the House. Earlier today, the House cancelled debate and pulled the THUD funding bill off of the floor, and Politico is reporting that this is largely due to moderate members in the House upset with the level of cuts being debated.