Current Action Alerts
Image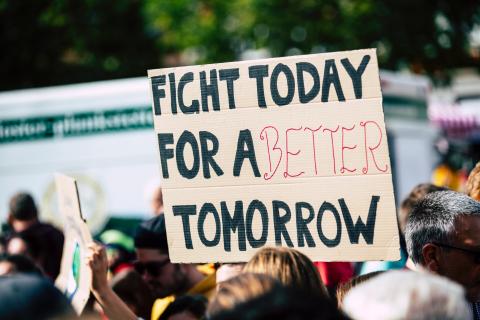 CALL GOV. INSLEE: EXTEND THE EVICTION MORATORIUM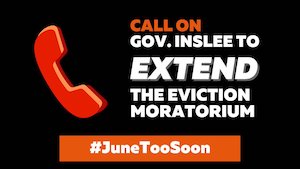 June 30th is right around the corner and the Governor needs to hear from as many people as possible: Washington needs more time to prevent massive evictions and a surge in homelessness.
Please call today! For a sample script and the number to call, visit: bit.ly/callinslee.
LEGISLATIVE SESSION 2021: WE DID IT! 
This was a whole team effort – so much appreciation to everyone at the Housing Alliance and Action Fund who played a part in making this happen! And to the nearly 3,000 advocates who took action this session – and 6,500 who have taken action since the start of the pandemic! And really – these wins are the result of YEARS of organizing and advocacy and electing housing champions that meant we were ready to take full advantage of this moment.
We achieved every single one of our priorities – and more – including:
A new permanent fund source for rental assistance and efforts to prevent and end homelessness: House Bill 1277 adds a fee on real estate transactions like buying or refinancing a home and will raise almost $300 million over the next two years.
Right to counsel: The Governor signed this last week, making Washington the first state to guarantee a lawyer for tenants in eviction court who are low-income or otherwise can't afford one. The bill also requires repayment plans, bars landlords from refusing to rent to tenants who fell behind during the pandemic, and provides an opportunity for mediation.
Just cause: House Bill 1236 requires that landlords have a legitimate business reason to make someone move, ending the practice of giving tenants 20 day "no cause" notices. This closes a loophole in fair housing laws and will ensure that rental assistance doesn't just pay back landlords but keeps people in their homes.
Over $1 BILLION to address the housing needs of people in Washington, including:
$350 million in the capital budget to build and preserve affordable homes, (including $175m for the Housing Trust Fund and $120m to acquire properties that can be quickly converted to housing or shelter)
$658 million for rental assistance
$187 million for foreclosure prevention
$72 million for shelter and housing for people experiencing homelessness
$27 million increase to the Housing and Essential Needs rental assistance program
(Watch for a more detailed budget summary later this week.)
House bill 1220 (Futurewise was the lead) prevents cities from banning shelters, transitional housing, or permanent supportive housing and requires jurisdictions planning under the Growth Management Act to identify policies that create racially disparate impacts, displacement, and exclusion – and to identify and implement policies to undo that harm.
Capital gains: The legislature passed a 7% excise tax on extraordinary profits from the sale of financial assets of over $250,000 per year. This tax would be paid almost exclusively by the richest 1% of Washingtonians and would generate more than $500 million per year. We participated in this coalition effort – lead by the Washington State Budget and Policy Center, Balance our Tax Code Coalition, and Invest in Washington Now.
---
Image

Has your housing been impacted by COVID-19?  Share your story with us!
Speaking your truth is a powerful way to educate lawmakers on why affordable housing needs to be a top priority this session.  
If you want to make a video telling your housing story, please contact Angela Compton at angelac@wliha.org to coordinate the recording or, snag a spot on her calendar here.  
---
Interested in learning more about bills the Housing Alliance is supporting?  Head over to our bill tracker!
---