Be a Housing Voter
2. Get Informed!
The Housing Alliance endorses ballot measures that will move Washington state and local communities closer to our goal of ensuring access to a safe, healthy, affordable home for everyone in Washington. Check back in mid-July for our endorsements.
3. Participate in the General Election November 6! It's important that you vote in your state and local races, and don't forget about ballot measures!

IMPORTANT DATES: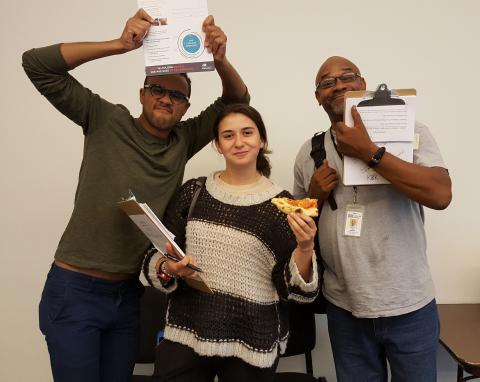 Oct 8 - Deadline to register by mail or online, or update your registration for General Election
Oct 29 - Last day for in-person voter registration for General Election
Nov 6 - GENERAL ELECTION
4. Take it to the next level!
Be a volunteer: Participate in a Get Out the Vote (GOTV) outreach event and help us call or door-knock other housing voters. Contact teresac@wliha.org. 
 
Attend a candidates forum: Elevate affordable homes and an end to homelessness in this year's election. Put your questions to the candidates, find out more about how they plan to tackle these urgent issues, and be an informed voter.
The Housing Alliance can work with member organizations and partners to create Voter Engagement Plans, individualized strategies for increasing registered voters in your community. Voter Engagement Plans have the following components:
1. Voter Registration and Engagement
Register new voters
Update voter registrations
Educate community members about their voting rights
Support the Housing Alliance's door knocking efforts at one or more residential properties
2. Pledge to Vote Postcard Campaign
Securing pledge-to-vote cards from housing community members who are registered to vote, in order to demonstrate to elected officials that these communities are engaged and care about the issues, particularly policy decisions impacting housing and homelessness.
3. Get Out the Vote (GOTV)
GOTV engages newly registered voters and lapsed voters to vote and mail in their ballots.
Reminders: email, postcard, signage, etc.
Events: ballot parties, phonebanks, community canvasses, etc.
To create a Voter Engagement Plan for your organization, contact Teresa Clark at teresac@wliha.org.
---
Attending a candidate forum is a great way to elevate the need for more affordable homes in Washington, and to find out where a candidate stands on furthering that goal. Forums are also an effective way for the public to weigh in on issues that are important to them. 
The below forums are sorted by legislative district. To find your district, click here.
Updated 9/4/2018
| | | | | | |
| --- | --- | --- | --- | --- | --- |
| LD | Date | Time | Location | Candidates | Event details |
| 1 | Thurs. 10/18 | 6:30pm | The Arc of Snohomish County, 2500 Hewitt Ave., Ste 300, Everett, 98201 | Candidates in multiple races across Snohomish County | Facebook Event |
| 5 | Weds. 9/19 | 7:00pm | Blakely Hall at Issaquah Highlands, 360 NW Dogwood St. Issaquah, 98027 | 5th District Legislative Candidates | Facebook Event |
| 5 | Weds. 9/26 | 6:00pm | Issaquah City Hall, 135 E Sunset Way, Issaquah, 98027 | 5th District Legislative Candates | Facebook Event |
| 5 | Weds. 10/24 | 11:30am | The Club at Snoqualmie Ridge, 36005 SE Ridge St, Snoqualmie, 98065 | 5th District Legislative Candidates | Facebook Event |
| 10 | Tues. 10/2 | 6:00pm | Trinity Lutheran Church, 18341 State Route 525 |   | Facebook Event |
| 10 | Thurs. 10/18 | 6:30pm | The Arc of Snohomish County, 2500 Hewitt Ave., Ste 300, Everett, 98201 | Candidates in multiple races across Snohomish County | Facebook Event |
| 21 | Thurs. 10/18 | 6:30pm | The Arc of Snohomish County, 2500 Hewitt Ave., Ste 300, Everett, 98201 | Candidates in multiple races across Snohomish County | Facebook Event |
| 25 | Tues. 9/11 | 9:00am | Puyallup Public Library | 25th District House Candidates |   |
| 26 | Fri. 9/28 | 9:30am | Salvation Army, 1110 S. Puget Sound Ave, Tacoma 98405 | 26th District Legislative Candidates  | Facebook Event |
| 28 | Fri. 9/28 | 9:30am | Salvation Army, 1110 S. Puget Sound Ave, Tacoma 98405 | 28th District Legislative Candidates  | Facebook Event |
| 30 | Wed. 10/3 | 6:30pm | Twin Lakes Golf and Country Club, 3583 SW 320th St., Federal Way, 98023 | 30th District Legislative Candidates | Facebook Event |
| 30 | Fri. 10/26 | 5:30pm | Kent Memorial Park, 850 Central Ave. N. Kent, WA 98032 | 30th District Legislative Candidates | Facebook Event |
| 31 | Fri. 10/26 | 5:30pm | Kent Memorial Park, 850 Central Ave. N. Kent, WA 98032 | 31st District Legislative Candidates | Facebook Event |
| 32 | Thurs. 10/18 | 6:30pm | The Arc of Snohomish County, 2500 Hewitt Ave., Ste 300, Everett, 98201 | Candidates in multiple races across Snohomish County | Facebook Event |
| 33 | Fri. 10/26 | 5:30pm | Kent Memorial Park, 850 Central Ave. N. Kent, WA 98032 | 33rd District Legislative Candidates | Facebook Event |
| 38 | Thurs. 10/18 | 6:30pm | The Arc of Snohomish County, 2500 Hewitt Ave., Ste 300, Everett, 98201 | Candidates in multiple races across Snohomish County | Facebook Event |
| 39 | Thurs. 10/18 | 6:30pm | The Arc of Snohomish County, 2500 Hewitt Ave., Ste 300, Everett, 98201 | Candidates in multiple races across Snohomish County | Facebook Event |
| 41 | Weds. 9/26 | 6:00pm | Issaquah City Hall, 135 E Sunset Way, Issaquah, 98027 | 41st District Legislative Candidates | Facebook Event |
| 44 | Thurs. 10/18 | 6:30pm | The Arc of Snohomish County, 2500 Hewitt Ave., Ste 300, Everett, 98201 | Candidates in multiple races across Snohomish County | Facebook Event |
| 45 | Thurs. 9/6 | 6:00pm | First Baptist Church of Redmond, 16700 NE 95th St. Redmond, 98052 | 45th District Legislative Candidates | Facebook Event |
| 47 | Fri. 10/26 | 5:30pm | Kent Memorial Park, 850 Central Ave. N. Kent, WA 98032 | 47th District Legislative Candidates | Facebook Event |