Housing and Homelessness Advocacy Days
February 6-8, 2023
Register here to join us virtually on Zoom!
Image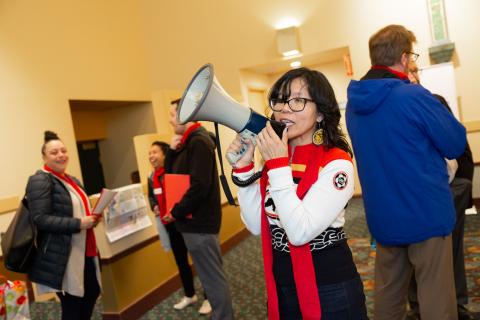 Join us Monday, February 6 – Wednesday, February 8 for virtual Housing and Homelessness Advocacy Days! 
You'll have the opportunity to participate in advocacy skill-building workshops, connect with hundreds of fellow advocates, and virtually meet with your local lawmakers about key housing and homelessness policies. Your voice and story will be a powerful contribution to these meetings – we hope you'll join us.
What to expect during #HHAD2023:
A joyful celebration and rally with housing movement advocates!
Seeing friends from across the state; connecting over values and our common cause!
Engaging conversations with newly elected lawmakers, many of whom are renters themselves.
Meet with your Legislative District Lead and others in your district to prep for lawmaker meetings and the rest of Advocacy Days.
Attend workshops to learn about housing justice work happening in Washington and build your advocacy skills.
The event will be free and all virtual by Zoom or phone.
Interpretation and accommodations will be available. Let us know about accomodations you need on your registration form by Jan. 30, 2023.
Pop in to a dedicated Zoom at any time to ask a question and get help from Housing Alliance staff.
Wear RED – we know some of you still have your HHAD scarves from years past!
Sponsorship Opportunities:
For information about sponsoring HHAD, including sponsorship levels and benefits, click here. To make a sponsorship payment, click here. For questions about sponsorship, feel free to contact Itzchel Bazan at itzchelb@wliha.org.
If you have any questions about the event, please reach out to: hhad@wliha.org.