Join us for the introduction of the Roadmap to Housing Justice on Nov. 30th
 
Image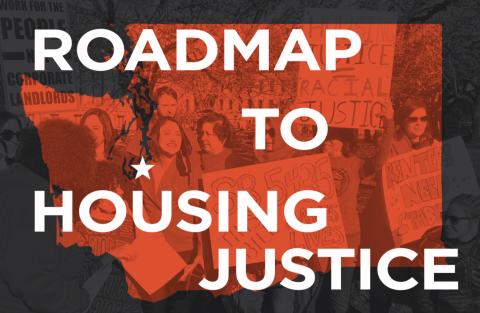 Join us on Nov. 30th from 4-5pm for our annual meeting and the release of the Roadmap to Housing Justice. The Roadmap is a call to action for lawmakers and a rallying point for our communities. It lays out the policy changes and investments needed to create housing justice in Washington.
---
Actions to take before the 2024 Legislative Session
 
Rent increases have forced over 136,000 of Washington's households to move in the first six months of 2023 (not a typo). And where did these renters go? With housing out of reach of low and moderate-income households, the chances that they were able to find an affordable home in their community – or anywhere in Washington – is slim. Rent increases lead to evictions, community instability, and homelessness. Washington must do better.

 
 
Almost everyone agrees that our state is dramatically short of the affordable homes we need and that our lack of affordable homes is the key driver of homelessness. But did you know that over the next 20 years, Washington will need over 721,000 new subsidized, permanently affordable homes? Where are we going to put them all? Can we build these affordable homes near transit and jobs?  

Like food, air, and water, housing is a basic human need. The lack of affordable housing in our state is driving the homelessness crisis and forcing too many people to make impossible choices between a safe home and other basic necessities. 
Contact your lawmakers today and urge them to create a permanent funding source for affordable homes through expansion of the state graduated Real Estate Excise Tax on transactions for expensive properties, and the creation of a new local option REET that would be available for cities and counties. 

Homelessness and affordable housing remain the top priorities of voters in our state, but Washington is actually facing a reduction in funding for homelessness, which would have devastating impacts to local programs. Why is this happening? Because revenue intake is still down by almost 50% from "document recording fees," which are the state's dedicated fund source for homelessness prevention.  

---

Sign up for Action Alerts!
We advocate for housing justice year-round with the help of advocates across the state taking important actions like emailing their lawmakers, signing on to letters, posting on social media, and participating in many other organizing strategies. Powerful actions are the collective force of our movement and are often the momentum we need to win important changes!
Sign up here to receive emails or text messages when we're organizing for an important action, and we'll keep you regularly updated.
Become a member of the Washington Low Income Housing Alliance! 
Organizational members bring their expertise to our advocacy, and help ensure that we understand the needs and challenges in communities all across Washington.
By becoming a Housing Alliance Member, you will be part of the leading statewide advocacy organization working to end homelessness. Together, we've built a powerful coalition of organizations and individuals fighting for an affordable home for everyone in Washington. Join us!
Individuals and organizations can learn about membership here. 

If you are a Consolidated Homelessness Grant administrator, contact Itzchel Bazan to learn more about county Homelessness Network membership.
Learn more about the Resident Action Project!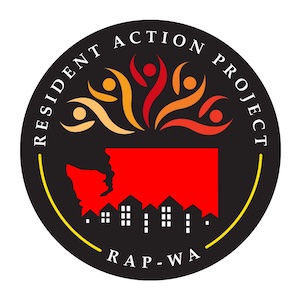 The Washington Resident Action Project (RAP) is a statewide resident base of power. Launched in 2015, RAP — a project of Washington Housing Alliance Action Fund and the Center for Community Change – has been building a powerful resident lead organization. As RAP members we are experts on Washington's housing crisis, having persevered through the struggle to find and keep roofs over our heads. And now, we're becoming skilled advocates and organizers who are ready to use our power.
RAP members are residents of low income housing and people who have experienced homelessness and housing injustice, as well as service providers and non-profit housing providers If you are interested in learning more, sign up here!
If you have further questions, email Duaa-Rahemaah Hunter at duaarahemaahh@wliha.org
Become a Legislative District Lead!
Making progressive change to make sure everyone has a safe, healthy and affordable home requires an army of advocates working throughout Washington state. With three seats in each of our 49 legislative districts, we have 147 different lawmakers to maintain relationships with. But we know that lawmakers listen first and foremost to their local constituents, and if we can mobilize in-district, they will listen.
LD Leads build and maintain an active local base of housing advocates in their state legislative district, alerting them to take advocacy action at strategic times. Working closely with the Housing Alliance, LD Leads can strengthen their legislative and advocacy skills while building community and developing stronger relationships with their lawmakers.  
We are seeking LD Leads in districts all over Washington. We are currently prioritizing people who are members of communities that are historically left out of policy and legislative conversations in Olympia, including people of color (particularly Black and Indigenous POC), immigrants, people with disabilities, LGBTQ+ folks, people with direct experience of homelessness, or people who are historically marginalized in other ways. This does not mean you will be automatically turned away if you do not fit these descriptors. The most important thing is that you have a working commitment to racial equity that is in alignment with the Housing Alliance's equity commitment.
If you are interested in becoming a Legislative District Lead, contact Po Leapai, Advocacy Organizer: pol@wliha.org