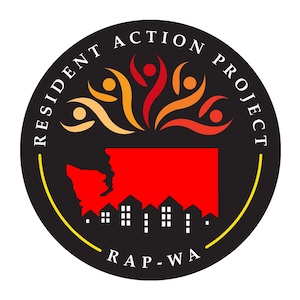 The Resident Action Project (RAP) is a program of Washington Low Income Housing Alliance,  Washington Housing Alliance Action Fund, and supported by Community Change.

RAP started in 2015, about a year after the Emerging Advocates Program. We partner with Community Change as part of their Housing Justice Network, and work alongside Residents Organizing for Change (ROC) in Oregon, Residents United Network (RUN) in California, and Resident Organizing Louisiana (ROLA) in Louisiana.

We are a statewide organizing network and are led by people who live in low-income/affordable housing, and those with lived experience of housing injustice, instability, and/or homelessness. We also include nonprofit resident service managers, and direct service staff.

We are building a cross-race and cross-class movement statewide to work on housing justice. We do this through storytelling, organizing, and civic engagement. We also do this by building power to help change local, state and federal laws and policies.
We know that too many of the people with lived experience are Black, Indigenous, and people of color (BIPOC), people who identify as LGBTQIA2S+, people with disabilities, immigrants & refugee, formerly incarcerated, older adults, those aging out of foster care, veterans, and single parent families just to name a few. We also know that housing is also part of a larger system of oppression that we are addressing in our organizing work and which we are trying to dismantle.

We also believe that, "Those closest to the problem are closest to the solutions, but furthest away from the resources and decision making tables."  And RAP says no more. We believe that solutions are best when they are resident-led and centering the voices of those with lived expertise of housing insecurity, injustice, and/or homelessness.

We do this work so that everyone has a place to call home.

If you are interested in learning more, sign up here!
If you have further questions, email Duaa-Rahemaah Hunter at duaarahemaahh@wliha.org