Housing Advocacy in Action! Week of Jan 23
Michele Thomas, Director of Policy and Advocacy
Bills, Bills, Bills!
The 2017 state legislative session is 2+ weeks in and many bills are still being introduced. The pace and feel of the campus is hectic, with many people working to get their issues in front of lawmakers.
To keep track of all the bills this session, the Housing Alliance has created a bill tracker on our website where we will list our position on bills that impact affordable housing and homelessness, and other important issues including racial equity, voting rights, safety net services and more. Be sure to check back often, as we are updating this all the time!
Do you want to testify this session? We can help!
Testifying on a bill can be an empowering experience that helps to educate lawmakers on the need to pass a bill or to invest in a program. Especially if you have a personal experience with an issue, your story can profoundly impact where a lawmaker stands. Let us know if you are interested in learning more or if you are already planning on coming down to testify. Fill out this simple survey and we will be in touch!
WHOA: HB 1570
Image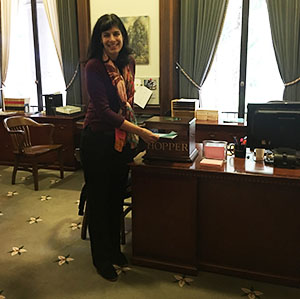 Last week was exciting with the development of HB 1570 by Representative Nicole Macri from the 43rd legislative district. This bill will prevent a massive cut in state homelessness funding while also increasing resources to meet Washington's growing homelessness crisis.
If coupled with new Housing Trust Fund investments, the bill would ensure housing for 6,515 more people each biennium (each 2 year budget cycle). And it would enable Washington to:
End family homelessness,
Reduce chronic homelessness by 50% and,
Ensure that no youth exits a public institution into homelessness.
You can TAKE ACTION today to make sure your lawmakers know how important this bill is!
Here is an overview of what HB 1570 does:
Eliminate the sunset on the homeless housing and assistance surcharge. This sunset would result in a loss of 62.5% of state funds to prevent and end homelessness. Every homeless and housing safety service in the state would be deeply impacted by this cut, including services for victims of domestic violence, youth & young adults, families and people with mental illness, seniors, veterans and more. HB 1570 eliminates the sunset and makes this fund-source permanent.
Increase resources to prevent and end homelessness by adding $40 to homeless housing and assistance surcharge. This would bring this total surcharge to $90. These are charged when real estate documents are recorded with the local auditor's office. Real estate documents are recorded in a variety of instances, including when a house is sold.
Amends the mandate that currently requires 45% of all state funds be set-aside solely for for-profit landlords. The for-profit market is difficult, and sometimes impossible, for low-income tenants exiting homeless because of the outright refusal of for-profit landlords to rent to people using rental assistance to help pay the rent. This discrimination limits the effectiveness of rental vouchers, while the lack of rent controls in Washington also make private rental vouchers an increasingly expensive intervention. HB 1570 will provide the state and counties with flexibility to use vouchers in nonprofit owned housing where tenants exiting homelessness are welcome.
Improves state and county reporting requirements. HB 1570 will also improve reporting requirements to ensure more transparency in how state homelessness dollars are being spent, including by requiring homeless housing plans to be updated every five years.
You can find the bill on this page and sign up for updates as the bill progresses.
What Trump could mean for affordable housing and homelessness
Last week we all witnessed the historic shift of power to a new administration. A Trump White House could have very significant impacts on affordable housing and homelessness. Ben Carson, the Trump administration's pick for HUD (Housing and Urban Development) does not have a history of supporting affordable housing programs. While his lack of experience in this area generally makes the impacts of his appointment unknown, there will likely be significant alignment between his conservative worldview with the policy priorities of congressional leadership. This could have significant budget implications, but it could also impact HUD's fair housing enforcement, regulations that protect public housing tenants and more.
The Housing Alliance encourages you to sign up for alerts from the National Low Income Housing Coalition. This organization has a long history of informing housing and homelessness advocates on federal developments. You can sign up on their website here.
I also encourage you to check out this blog post from after the November election in which they outline the potential impacts of Trump.
In these uncertain times, it more important than ever that we stand up against hate, discrimination and attempts to weaken fundamental protections. To that end, the Housing Alliance has crafted a support agenda that reaches a little further to include issues that impact poverty, racial justice, immigrant rights, voting rights and other important issues that effect justice and equality in our state. You'll see us taking action on more issues this year, while still leading on affordable housing and homelessness priorities. Check out our lead agenda and support issues here.
Resources for Advocates
Check out the Housing Alliance website for advocacy resources including policy overviews for each of our priority issues. Additionally, you can find key resources including this Housing Trust Fund talking points document. Note: our one-pager on the Medicaid Transformation Demonstration is coming soon. 
We need you!
Image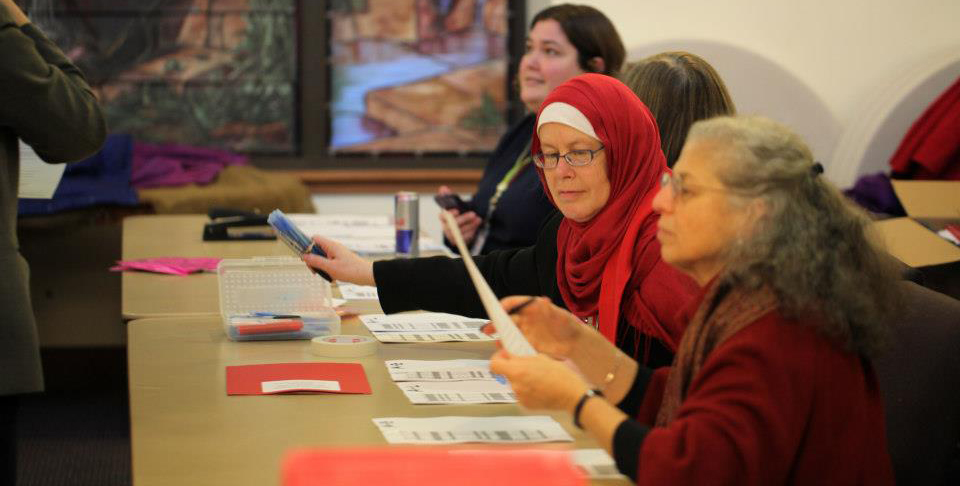 Housing and Homelessness Advocacy Day is around the corner, and many of you have not yet registered! We know you are coming, but we need you to register so we can order the food and plan all the logistics of the day including ensuring enough room for lawmaker meetings. Please register today. If you have questions or need help, you can contact Alouise at the Housing Alliance.

We are also still looking for volunteers, including people who will lead the lawmaker meetings. If you are interested in volunteering, the first step is to fill out this form.
Help us educate lawmakers with stories from people impacted by homelessness, discrimination or housing insecurity.
Image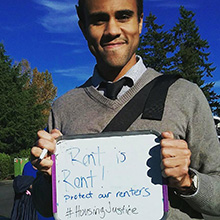 The Housing Alliance is in the process of creating a one-page document for each legislative district in the state that will include data about housing and homelessness, and a personal story of someone whose life is better because they have a safe, affordable home. The stories are approximately 250 words with a picture. Because session has already started, we need these stories as soon as possible for our lawmaker meetings!
We need stories from the following legislative districts:

1 (Mountlake Terrace, Bothell)
2 (Parts of Pierce and Thurston County including Graham, Yelm and Eatonville)
4 (Parts of Spokane County including Liberty Lake and Spokane County)
7 (Includes Oroville, Tonasket, Republic, Colville and Chewelah)
11 (Includes South Seattle, Tukwila and parts of Renton)
12 (Chelan and Douglas Counties, including Winthrop, Twisp, Chelan, Leavenworth, Wenatchee and Grand Coulee)
15 (Parts of Yakima County including Wapato, Toppenish, Zillah, Granger, Sunnyside and Grandview)
16 (Parks of Columbia and Walla Walla County including Walla Walla city, Prosser and Pasco)
17 (Parts of Clark County including Battle Ground and part of Vancouver)
18 (Parts of Clark County including Ridgefield, Camas, Washougal and parts of Vancouver city and part of Battle Ground)
25 (Parts of Pierce County including Puyallup and Fife)
26 (Parts of Pierce and Kitsap Counties including parts of Bremerton and Port Orchard)
28 (Part of Pierce County including University Place, Lakewood, Dupont and Spanaway)
30 (Federal Way, Des Moines and parts of Auburn)
31 (Parts of South King County and NE Pierce County including Auburn, Bonney Lake, Enumclaw and Sumner)
34 (West Seattle, Vashon and parts of Burien)
39 (Sedro Woolly, Arlington, Monroe, Gold Bar, parts of Marysville)
44 (Parts of Marysville, Lake Stevens, Snohomish and Mill Creek)
46 (Lake Forest Park, Kenmore and Lake City)
If you have a story to share, or if you know someone who does, please email dimitrig@wliha.org and he can coordinate with you!
Advocate Calls
Join us every-other-Friday at 11am for a conference call detailing the very latest on housing and homelessness priorities in Olympia. These calls will cover progress of important bills and advocacy opportunities, and you don't have to be a policy expert to follow what's happening. The next call is on Friday, February 3rd, followed by calls on 2/17, 3/3, 3/17, 3/31, and 4/14. Anyone can join, just email reinyc@wliha.org for your call in code. Feel free to invite your colleagues, friends, and family to join.
Don't forget to take action and hope to see you in Olympia on February 2nd,
- Michele and the Housing Alliance team.