A new face at the Housing Alliance...
Haley Jo Lewis, Communications Intern
My name is Haley Jo Lewis, and I am excited to be Washington Low Income Housing Alliance's new Communications Intern! I am originally from sunny San Diego and moved to Seattle three years ago to attend Seattle University where I am currently in my senior year studying communications.
During my time at Seattle University, I have become aware of many issues in our community and have become engaged in social justice work in a variety of platforms. I have both volunteered with and worked for the Seattle University Youth Initiative as a member of the Redhawk Reading Corp. For this program, I volunteered as a reading tutor in elementary classrooms, where students from low-income families received extra support in learning to read. This work was extremely rewarding. Seeing the progress students made throughout the year because of our program made me realize how possible it is to create change in our communities. Building meaningful relationships with program participants is something I'll always cherish.
When I saw an opportunity in the Communication Department for work at the Project on Family Homelessness, I couldn't turn it down. I have always been interested in the issue of homelessness. I'm particularly interested in changing the negative public perceptions of individuals experiencing homelessness. I hope that, someday in the future, we can humanize the issue and build a grand-scale social movement to end homelessness.
My first experience working in coordination with the Housing Alliance was at Housing and Homelessness Advocacy Day 2014. I met their "communications guy," Joaquin, and others from the Housing Alliance and attended a workshop on using social media for advocacy led by Joaquin and members of the local advocacy organization Firesteel. It was my first experience at Advocacy Day, and I was pleased to find that both the workshops as well as the legislative meetings were easy to follow. Although I had very little prior knowledge of the legislative process, I found that by the end of the day I had a better understanding of how it all works, and I felt like I had really made an impact in being there. I am now so excited to attend Advocacy Day 2015. I knew right from the beginning that the Housing Alliance knew what they were doing!

Image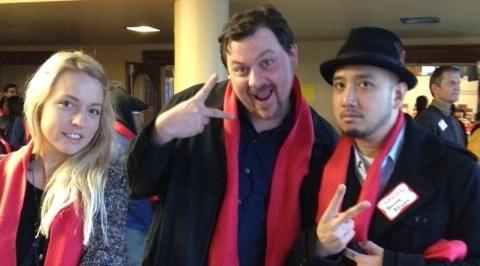 As a Communications Intern, I am excited to assist in social media work, research, data analysis, digital design, and many other tasks for various Housing Alliance staff members. I hope my skills will help keep the Housing Alliance running smoothly and effectively. I also hope to be a bridge between them and the Seattle University Project on Family Homelessness on various projects, keeping these two awesome organizations in communication with one another, supporting one another's work, and working together to end homelessness.
I am eager to gain experience in the communications sector of nonprofit and advocacy work and am honored to be given this opportunity! Hopefully I'll see you at this coming Advocacy Day on Tuesday, February 17, 2015 in Olympia.
Photos: Top: Me at Advocacy Day 2014 (Photo courtesy of Catherine Hinrichsen). Bottom (left to right): Me, Graham Pruss, and Joaquin Uy at Advocacy Day 2014 (Photo courtesy of Catherine Hinrichsen).
---