The Week In Housing Advocacy - Weeks 1 and 2
Michele Thomas, Director of Policy and Advocacy

The 2016 state legislative session started on January 11th and it's been a very busy two weeks! This email contains updates on how affordable housing and homelessness priorities are faring, plus a timely and important call to action.

The Week in Housing Advocacy will be published every other week throughout the session. On the off weeks we invite you to participate in advocate conference calls, which will include live updates from Olympia. These calls are open to all Housing Alliance advocates:

Housing Alliance advocate updates live from Olympia

All calls are at 12:00pm via this phone number and code: 1-866-339-4555, 2064429455

February 5
February 19
March 4
March 18



Image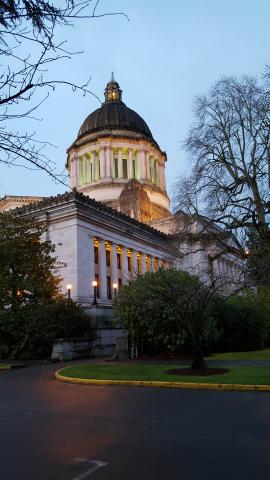 The Week in Housing Advocacy

The good news from Olympia is that affordable housing and homelessness are top-of-mind issues. The Housing Alliance has been joined by many in our efforts to eliminate barriers to housing and address the emergency of homelessness. The bad news is that Olympia is a very polarized environment and it is an extremely tight budget year. Despite these obstacles there are still opportunities to make real progress this session, but that hinges on whether or not lawmakers hear from you. There are many important issues lawmakers are grappling with and they need to hear that you want them to prioritize affordable housing and homelessness. Please take part in this week's call to action to make sure lawmakers know that we need them to protect low-income renters from discrimination while also building more affordable housing!

Please call your lawmakers in Olympia. You can leave one message for all of your lawmakers (which includes two representatives, one senator and the governor). Call 1-800-562-6000 during 8:00 AM - 8:00 PM Monday through Friday.

Please call Monday with this simple message,

"Please outlaw discrimination based on a renter's source of income by passing SB 5378 and HB 1565. We need to ensure that low-income renters are given an equal opportunity to apply for housing. And please fund the Housing Trust Fund at $10 million dollars to build homes for people with disabilities, seniors, homeless youth and more."

Let us know if you get a response from your lawmakers! Email Teresa Clark, our new Mobilization Specialist at Teresac@wliha.org. (and if you haven't seen it yet, check out Teresa's blog post to learn more about her extensive background in community organizing.

$10 Million for the Housing Trust Fund

This year we are asking for $10 million to be allocated to the Housing Trust Fund in the Supplemental Capital Budget. This year is the second half of the biennium and the legislature can make additional appropriations and adjustments to the budgets that they passed last year. There is capacity in the Capital Budget to fund the Housing Trust Fund at this level, but lawmakers are getting a lot of asks. In order to secure this funding, lawmakers needs to hear from you.

Here is a quick overview of key talking points you can use when you talk to lawmakers. To get a copy of our Housing Trust Fund briefing paper, click here.

What:
The Housing Trust Fund supports community efforts to ensure the availability of safe, healthy, and affordable housing by providing loans and grants for construction, acquisition, and rehabilitation of low-income multi-family and single-family housing
A new $10 million investment in the Housing Trust Fund will build over 280 additional permanently affordable homes for homeless families with children, seniors, veterans, homeless youth, farmworkers, people with disabilities and more.
Why:
There is a great need for permanent affordable housing in every community in Washington State (share an example from your community).
The Point In Time Count in January 2015 counted 19,418 people experiencing homelessness that night, across the state. Over 7,100 of them were unsheltered, including families with children and unaccompanied youth. This is a 3% increase from 2014.
Housing costs are increasing across the state while take-home pay for those with the lowest incomes significantly declined from 2009:
Image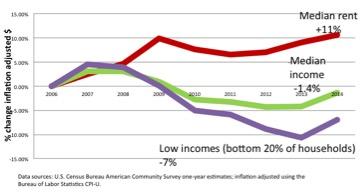 Outlaw Discrimination Based on a Renter's Source of Income

SB 5378 was heard before the Senate Human Services, Mental Health and Housing Committee on Thursday, January 21. 13 people testified in support, including a for-profit landlord and a fire-fighter injured on the job who is now a section 8 tenant. Many others signed in with support for the bill. The lively hearing went for over an hour and the committee members were very engaged. Be sure to take action today by calling the legislative hotline to urge your lawmakers to pass the bill. But if any of the below is your Senator, you have an especially strong opportunity to support the passage of this bill. Each Senator below is on the committee and their votes are critical. If you live in their district, please call them directly to urge them to quickly pass SB 5378 out of committee:

Senator Nelson calls for $300 million to be allocated to the emergency of homelessness

Senator Sharon Nelson, 34th LD and Senate Democratic Leader, is calling on her colleagues in the legislature to respond to the emergency of homelessness by allocating $300 million from the state's "rainy day fund" to the Housing Trust Fund, homelessness services, shelters, Hope Beds and more. Thursday on TVW's Inside Olympia, Senator Nelson answered questions about her plan. She says, "I believe that we do have an emergency in this state. When you look across the state and see that we have close to 34,000 kids who are homeless, this is a crisis…. We can do better." See the whole interview and hear what Senator Nelson says about the Housing Trust Fund and other 2016 legislative priorities (and if you attend Housing and Homelessness Advocacy Day on February 2nd, you'll hear from her yourself during the opening ceremony!):



Tight Budget Once Again

Everyone in Olympia was hoping for a ruling on Initiative 1366 sooner than later, so there was a strong sense of relief when on Thursday the King County Superior Court issued their ruling that 1366 is indeed unconstitutional. I-1366 is the Tim Eyman initiative that narrowly passed in November with 51% of the vote. If enacted, the legislature would have to either send a constitutional amendment to the people that would require a 2/3 super majority vote of the legislature to raise taxes or face an automatic decrease in the state sales tax. On April 15, 2016, the state retail sales tax rate would decrease from 6.5 percent to 5.5 percent resulting in a loss of over $8 billion dollars in general fund revenue over the next 6 fiscal years. This would put a $1.5 billion hole in the current budget and then cost the state $1.5 billion each fiscal year. Hence, the strong sense of relief that I-1366 appears to be heading to the dustbin. However, the case could now be sent for additional consideration by the State Supreme Court so the issue may not be finalized yet. 

Read more about the impact of this ruling from the Olympian

Despite the apparent relief from I-1366, the legislature is still in another tight budget year with very little room to address any emerging needs. Even an ask for a modest $3 million for the Consolidated Homelessness Grants is a tall order. But there is still an opportunity to remedy the cuts to homelessness services that are being implemented across the state.

Prevent cuts to homeless services

The Housing Alliance is calling on the legislature to allocate $3 million from the state's general fund to backfill the cuts to the Consolidated Homeless Grant. The total shortfall is $7.5 million but there is an identified source for the balance, hence our ask of "$3 million in new dollars and $4.5 million in expenditure authority to the Department of Commerce".

The Housing Alliance needs you to educate lawmakers on the impact of the $7.5 million shortfall. Please contact Teresac@wliha.org with examples of how the cuts are impacting your community. Stories that illustrate the impact of services funded by the State Consolidated Homeless Grants are also needed.

We hope to see you on February 2 for Housing and Homelessness Advocacy Day!

The Housing Alliance's annual lobby day is one of the best opportunities to educate lawmakers on what they can do the help end homelessness and expand opportunities for affordable housing. If you haven't signed up already, we encourage you to register soon so you can take part in this exciting, effective and informative day of action. Check out the details here.

Progress on Fair Tenant Screening and Eviction Reporting

We are excited to share that, thanks to Senator Mark Mullet, 5th LD, that an agreement has been reached that will make progress on the Fair Tenant Screening Act and on how evictions are reported by tenant screening companies. SB 6413/Mullet and HB 2811/Walkinshaw will make important progress on both these issues, while in exchange allowing landlords to have an additional seven days in which to postmark the return of a deposit. The Housing Alliance strongly supports these bills and encourages lawmakers to vote yes. It is rare to find agreement in which all stakeholders feel that they've gained something and the compromise that Senator Mullet has brokered is long-awaited. It will have a significant, positive impact on the lives of Washington's many tenant households.


Thank you for advocating for affordable housing and ending homelessness. The victories from 2015 and previous legislative sessions show that we can move mountains when we come together to advocate for change. And we can make more progress this session. Please take action today and stay tuned for more advocacy opportunities.