The Week In Housing Advocacy - Weeks 3 and 4
Michele Thomas, Director of Policy and Advocacy

Half way through the session, housing issues alive and well!



Image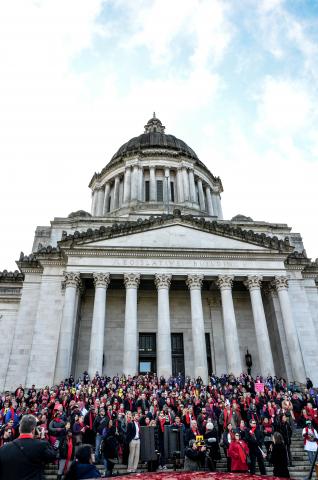 We are now at the halfway point of the legislative session and we are happy to report that all of our priority issues are still alive and well. Affordable housing and homelessness remains a top issue for many lawmakers, and the near 700 people who came to Olympia on February 2nd for Housing and Homelessness Advocacy Day certainly helped!

The last two weeks in Olympia were a flurry of hearings and votes by lawmakers to move bills out of their policy committee before they hit the first deadline or "cutoff" of the session. Tuesday, February 9th brings the second deadline: bills have to clear fiscal committees in order to keep moving. Here is the status of our lead bills and some key support bills as well:
 
Addresses housing options for participants in government assistance programs. (Outlawing Discrimination based on a Renter's Source of Income.)

HB 1565 by Representative Ormsby

Passed out of House Judiciary Committee on 2/4. Currently in House Rules Committee.

SB 5378 by Senator Miloscia

This bill is dead since it didn't get a vote in Senate Human Services, Mental Health and Housing Committee. But the House companion (1565) can still pass!

Addresses tenant screening, evictions, and deposit or security refunds under the residential landlord-tenant act.

SB 6413 by Senator Mullet

Passed out of the Senate Financial Institutions and Insurance Committee unanimously on 2/3. Currently in Senate Rules.

HB 2811 by Representative Walkinshaw

Passed out the House Judiciary Committee unanimously on 2/4. Currently in House Rules.

Establishes the homeless student stability and opportunity gap act.

SB 6298 by Senator Frockt

Passed the Senate Committee on Early Learning & K-12 Education unanimously on 1/28. Currently in Senate Ways and Means.

HB 1682 by Representative Fey

Passed out House Appropriations on 1/25. Currently in House Rules.

Authorizes city governing authorities to adopt a property tax exemption program, and county governing authorities to adopt a property tax exemption program for unincorporated jurisdictions, to preserve affordable housing that meets health and quality standards for very low-income households at risk of displacement or that cannot afford market-rate housing.

HB 2544 by Representative Frame

Passed the House Committee on Community Development, Housing and Tribal Affairs on 2/2 and was heard in House Finance on 2/5.

SB 6239 by Senator Fain

Passed the Senate Human Services, Mental Health and Housing Committee on 2/1 and was heard in Senate Ways and Means on 2/4.

Addresses the sale of manufactured/mobile home communities. (Gives nonprofits the opportunity to purchase).

HB 2799 by Representative McBride

Passed House Judiciary on 2/4 and is scheduled for a hearing in House Finance on 2/8 at 8:00 AM.

Revises the definition of "work activity," for purposes of the WorkFirst program, to increase the threshold from twelve months to twenty-four months for vocational educational training, with respect to any individual.

HB 1875 by Representative Walsh

Passed the House last year and is now in House Rules.
Time to Speak Up for the Housing Trust Fund!

Budget writers are right now negotiating what to include in their budget proposals. The House will come out first with their budgets, sometime around Presidents Day. Since the budgets are not ready, there is still time to make sure that the Housing Trust Fund is funded at $10 million. Take action today and challenge your colleagues, friends and family to join you! 

Senator Sharon Nelson and Senate Democrats introduce the "Bring Washington Home Act"

On Thursday, February 4th, SB 6647/Nelson "The Bring Washington Home Act" was introduced. This bill will allocate $186 million to affordable housing & homelessness from the "rainy day fund". With leverage from tax credits and local sources overall, it will invest a total of $300 million in affordable housing and homelessness programs! This is a bold proposal to address the crisis of homelessness that every community in our state is facing. The most basic duty of government is to protect its residents from danger, and our state is failing if even one person is forced to sleep outdoors. But we are failing miserably when thousands suffer this fate every night. All levels of government need to step up, including the federal government, but the Washington State Legislature must do more.

Senator Nelson's bold proposal should be endorsed by all lawmakers, but it is possible that it won't be given a hearing in the Senate. Some lawmakers have asserted that homelessness is only a problem in Seattle. If you'd like to join our letter to editor campaign to shine a spotlight on homelessness in every community in our state, please contact Teresa Clark today.
Check out the press conference on the bill's release here.
And read our press statement here.

State Releases New Homeless Public School Student Numbers and Finds 9.1% Increase

On February 2nd, the Office of Superintendent of Public Instruction (OSPI) reported that 35,511 students were homeless in the 2014-15 school year. This is a 9.1 % increase from the previous school year and represents 3.3% of all public school students. OSPI reports that the four-year graduation rate for homeless students in the class of 2015 was 51.9% while the rate for all students was 78.1%.

According to our partners at Columbia Legal Services, the new data reveals that homelessness continues to disproportionately impact students of color. African American, American Indian, and Latino students are 2 to 3 times more likely to be homeless. CLS estimates that between 2,600 and 4,400 of these students may be unaccompanied homeless youth who are not in the custody of a parent or guardian.

You can see how many students were reported as homeless in your local school district here. 

Lots of Media Interest in bill that bans Source of Income Discrimination



Image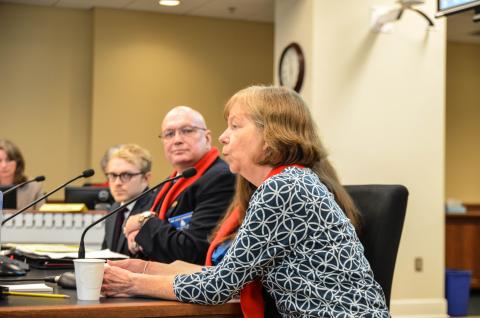 Media interest in a bill can be hard to come by, but there has been a lot of interest in our efforts to outlaw source of income discrimination. These articles are a valuable tool for educating lawmakers and the general public alike. Please spread the word by sharing them via your social media networks. And special thanks to John, Carissa, Mindy, and the many other tenants who have been sharing their personal stories with lawmakers and reporters.

Vouchers little help if landlords reject them
Olympian Editorial Board

Tenants on public aid find some doors closed
By Jordan Schrader, Tacoma News Tribune

Lawmakers try to prevent discrimination of tenants with housing vouchers
By Natasha Chen, KIRO 7

Bring your Board of Directors to Olympia!

With half of the session left to go, there is still time to bring your board of directors to Olympia to meet with lawmakers. And the Housing Alliance can help. If you are interested in learning more about the logistics and benefits of getting your board involved, please contact Teresa Clark at TeresaC@wliha.org. If getting everyone to Olympia seems daunting, you could also consider "virtual meetings" with your lawmakers. Contact us soon to talk more about getting your board involved during this legislative session.

Thank you for your advocacy and don't forget to take action today for the Housing Trust Fund.

Sincerely,
Michele