The Week in Housing Advocacy - Week 8
Posted March 8, 2015 - 11:19pm
Michele Thomas, Director of Policy & Advocacy
The Post Fiscal Cutoff Report
Last week was eventful again for affordable housing and homelessness issues, with many important bills being voted out of their chamber of origin. As we mentioned in last week's email, Wednesday, March 11 is the last day bills can be voted off the floor. (All bills directly related to the budget are exempt from this cutoff.) The next step for bills that make it past Wednesday's cutoff is the policy committee in the opposite house.
We are very happy to share that the following bills had already cleared this hurdle as of Friday, March 6.
Your Advocacy Worked!
A huge thank you to everyone who took action last week and sent messages to their legislators asking them to support HB 1257 the Fair Tenant Screening Act. The bill was voted out of the House with 51 yeas and 47 nays. This is a very important milestone, and it means we are that much closer to passing this bill into law and ensuring that people have an option other than to be charged over and over again for duplicate tenant screening reports.
It's very important that we say thank you to the legislators who voted in favor of the bill and remind the others about why the legislation is necessary.
We make it easy for you to send your "thank you" or "please reconsider" emails to your representatives.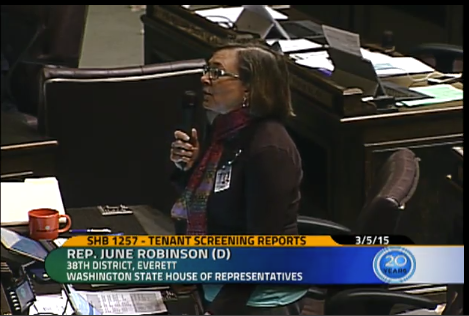 Representative June Robinson (38th LD-Everett) has been a long time supporter of this issue. She is a housing leader and was the prime sponsor on last year's bill. Her floor speech was a perfect summary of the reason this bill is so important, and we greatly appreciate that she shared the story of a Housing Alliance leader and Emerging Advocate graduate Thomas Green: June.Robinson@leg.wa.gov.
Representative Steve Kirby (29th LD-Tacoma) impressed many during the committee hearing back in February with his strong words that expressed the same frustration that we feel about the endless roadblocks thrown out to prevent this problem from being solved. He shared that frustration again on the floor. He was speaking for so many of us who have been working long and hard: Steve.Kirby@leg.wa.gov.
Representative Linda Kochmar (30th LD-Federal Way) was the lone and brave vote from the Republican caucus. We know it can be hard to be the standalone if your caucus has made the decision to act in unison, (as it appears that they did on this bill). She deserves your thank you for voting her conscience and for standing up for what is right: Linda.Kochmar@leg.wa.gov.
Workforce Housing in King County
SHB 1223 (Springer)
Also known as "the King County Stadium Bonds Bill", SHB 1223 passed the House late Thursday night with bipartisan support. In 2011, the State Legislature authorized King County to use a portion of lodging tax revenues to develop affordable homes for working families, but these funds are not available until 2021. Simple clarification language for the existing legislation would help non-profits and housing authorities build these homes much sooner. Thanks are due to Representative Larry Springer (45th LD-Kirkland) for his great leadership: Larry.Springer@leg.wa.gov. The Senate companion SSB 5208, was still in Senate Rules Committee as of Friday evening.
Homeless Youth Act
2SHB 1436 (Kagi)
The Homeless Youth Act passed the House earlier this week with significant bipartisan support. The act will also establish the Office of Homeless Youth Programs to coordinate funding, policy, and practice efforts related to homeless youth and young adults and to make recommendations to the Governor. In addition, the act will create a Homeless Youth Advisory Council to serve as a liaison between service providers and state government. Representative Ruth Kagi (32nd LD-Seattle) deserves thanks for her leadership: Ruth.Kagi@leg.wa.gov and Representative Maureen Walsh (16th LD-Walla Walla) also deserves thanks for effectively securing significant bipartisan support: Maureen.Walsh@leg.wa.gov. The Senate version 2SSB 5404 is on the Senate floor, but not voted on as of Friday evening.
The Homeless Student Stability Act
2SHB 1682 (Fey)
The Homeless Student Stability Act was pulled to the floor and voted off the House floor on Friday! This act will provide schools with much-needed support to identify and serve homeless students. In its current form, HB 1682 would provide funding to OSPI to help support schools in identifying and coordinating services on behalf of students experiencing homelessness. The bill would also provide support for school housing partnerships. In the current version of the bill, the amount for HSSA will be determined by the budget. Special thanks are due to prime sponsor Representative Jake Fey (27th LD-Tacoma): Jake.Fey@leg.wa.gov.
Extended Foster Care
2SHB 1735 (Orwall)
Extended Foster Care passed the House Thursday. Passing this legislation will provide youth with a documented medical condition the opportunity to remain in the foster care system until the age of 21 in order to achieve a high school diploma/GED, pursue their post-secondary education, or pursue programs that break down barriers to employment. Thanks are due to the prime sponsor Representative Tina Orwall (33rd LD-Des Moines): Tina.Orwall@leg.wa.gov. The Senate version SSB 5740 was pulled out of the Senate Rules Committee on Friday.
Homeless Management Information System
SSB 5898 (Miloscia)
The HMIS bill was pulled from Senate Rules to the Floor on Friday evening. This positions it for a vote before Wednesday's cutoff. Changes to Washington's current HMIS informed consent privacy statute (RCW 43.185C.180) from "opt in" to "opt out" could help improve statewide compliance and strengthen privacy protections, especially for survivors of domestic violence.
TANF and Workfirst Activities
ESHB 1875 (Walsh)
This is the bill that will allow TANF (Temporary Assistance for Needy Families) recipients to complete two years of education while receiving TANF instead of just one. The bill passed on Thursday with very significant bipartisan support and Rep. Maureen Walsh is (once again) deserving of thanks for her great leadership: Maureen.Walsh@leg.wa.gov.
Highlights for This Week
After March 11, committees will resume a regular meeting schedule, and attention will start turning to the upcoming budget release. This year, the House will be the first go public with their budget proposals, with March 23 being the approximate date of release. In the meantime, policy bills that make it past the March 11 cutoff will need to be scheduled for a hearing in the opposite chamber. The committee chair gets to choose which bills they want to give a hearing to. If they want to stop a bill from progressing, they simply refuse to hear it by the next deadline on April 1 (seriously).
Last week's progress is thanks to your extraordinary response to the call to action. Thank you for contacting your legislator and for pushing your networks to join you. It worked, and we will likely need you to do the same thing again in the coming weeks. Stay tuned for more updates and opportunities to weigh in.
Stay Informed!
In the meantime, are you signed up to receive your lawmaker's newsletter? Most lawmakers send out email newsletters, and we encourage you sign up for them. They frequently contain important information that is hard to otherwise find, like notices of upcoming town halls back in their home districts.
Town hall meetings with your lawmaker are a great way to emphasize that affordable housing and homelessness issues should be a top priority. And a lot of lawmakers are planning town halls over the next couple of weeks. You can sign up for the newsletters by visiting your lawmaker's homepage. House Democrats have the option to sign up for their newsletter in the bar on the right of the page, House and Senate Republicans at the top of each page, and Senate Democrats at the bottom of each page. Check out your lawmakers' pages today to see if there is a town hall coming up soon.
Below are a few town halls that we know of. You can see another list of town halls here.
Thursday, March 12 (telephone town hall)
25th District
Rep. Zeiger and Rep. Stambaugh Telephone Town Hall
6:00pm – 7:00pm
Dial: 1-253-561-0087
Friday, March 13
9th District
Rep. Fagan constituent coffee
3:00 – 5:00pm
Harvest Moon Restaurant
20 South 1st St, Rockford, 99030
26th District (1 of 4)
Rep. Young
6:00 – 7:00pm
Norm Dicks Government Center
345 6th St, Bremerton, 98337
Saturday, March 14
1st District
Sen. McAuliffe and Rep. Stanford, and Rep. Moscoso
10:00am – noon
Northshore Senior Center in the Wellness Center
10212 E Riverside Drive, Bothell, 98011
 
3rd District
Sen. Billig, Rep. Ormsby, and Rep. Riccelli
1:00pm – 2:30pm
WSU-Spokane Riverpoint Campus
Academic Center Auditorium
600 N Riverpoint Blvd, Rm #20, Spokane, 99202
 
5th District (3)
Rep. Rodne and Rep. Magendanz
Maple Valley
10:00am – 11:00am
Maple Valley Community Center
22010 SE 248th St, Maple Valley, 98038
 
Issaquah
1:00pm – 2:00pm
Issaquah Fire Department, Station 71
190 E Sunset Way, Issaquah, 98027
 
North Bend
3:00pm – 4:00pm
Mount Si Senior Center
411 Main Ave S, North Bend, 98045
 
10th District (2)
Sen. Bailey, Rep. Smith, and Rep. Hayes
 
Coupeville
10:00am – 11:30am (10-10:30am – Meet and Greet/10:30-11:30am – Town Hall)
Coupeville Rec Hall
901 NW Alexander St, Kirkland, 98033
 
Mount Vernon
2:00pm – 3:30pm (2-2:30pm – Meet and Greet/2:30-3:30pm – Town Hall)
Conway School
19710 SR 524, Mount Vernon, 98274
 
11th District
Sen. Hasegawa, Rep. Hudgins, and Rep. Bergquist
1:00pm – 3:00pm
Regional Communications & Emergency Coordination Center (RCECC)
3511 NE 2nd St, Renton, 98056
 
21st District
Sen. Liias, Rep. Ortiz-Self, and Rep. Peterson
10:30am – Noon
Meadowdale High School, Great Hall
6002 168th St SW, Lynnwood 98037
 
23rd District (2)
Sen. Rolfes, Rep. Appleton, and Rep. Hansen
 
Bainbridge Island
9:30am – 11:00am
Bainbridge Island City Council Chambers
280 Madison Ave N, Bainbridge Island, 98110
 
Silverdale
2:00pm – 3:30pm
The Jenne-Wright Administration Center, Central Kitsap School District
9210 Silverdale Way NW, Silverdale, 98383
 
26th District (3 of 4)
Rep. Young
 
Port Orchard
10:30am – 11:30am
Port Orchard City Hall
216 Prospect St, Port Orchard, 98366
 
Key Peninsula
2:30pm – 3:30pm
Key Peninsula Civic Center,
17010 South Vaughn Road KPN, Vaughn, 98394
 
Gig Harbor
6:00pm – 7:00pm
Gig Harbor City Hall
3510 Grandview St, Gig Harbor, 98335
 
27th District
Sen. Jeannie Darneille, Rep. Jenkins, and Rep. Fey
10:00am – noon
Evergreen State College – Tacoma Campus
1210 6th Ave, Tacoma, 98405
 
29th District
Sen. Steve Conway
10:30am – 12:30pm
Garfield Book Co. at Pacific Lutheran University
208 Garfield St S #101, Tacoma, 98444
 
30th District (2)
Sen. Miloscia, Rep. Gregory, and Rep. Kochmar
Federal Way
10:00am – 11:30am
Federal Way City Hall, Council Chambers
33325 8th Ave S, Federal Way, 98003
 
Milton
12:30pm – 2:00pm
Milton City Hall
1000 Laurel St, Milton, 98354
 
32nd District
Sen. Chase and Rep. Ryu
2:00pm – 3:30pm
Shoreline Fire Department
17525 Aurora Ave N, Shoreline, 98133
 
35th District
Rep. MacEwen and Rep. Griffey
2:00pm – 3:30pm
The Pavilion at Sentry Park
190 W Sentry Dr, Shelton, 98584
 
36th District
Sen. Kohl-Welles, Rep. Carlyle, and Rep. Tarleton
10:00am – noon
Phinney Neighborhood Association, community room
6532 Phinney Ave N, Seattle, 98103
 
38th District
Sen. McCoy, Rep. Sells, and Rep. Robinson
10:00am – 11:00am
Everett Community Resource Center, Port Gardner Room
3900 Broadway Ave, Everett, 98201
 
41st District
Sen. Litzow, Rep. Senn, and Rep. Clibborn
10:00am – noon
Somerset Elementary School
14100 Somerset Blvd, Bellevue, 98006
 
42nd District
Sen. Ericksen, Rep. Buys, and Rep. VanWerven
1:00pm – 3:00pm
Whatcom Community College
Syre Student Center
237 W Kellogg Rd, Bellingham, 98226
 
43rd District
Sen. Pedersen, Speaker Frank Chopp, and Rep. Walkinshaw
1:00pm – 2:30pm
Seattle Central College, Erickson Theater
1524 Harvard Ave, Seattle, 98122
 
45th District
Sen. Hill, Rep. Goodman, and Rep. Springer
10:00am – 11:30am
Woodinville High School Auditorium
19819 136th Ave NE, Woodinville, 98072
 
48th District
Sen. Cyrus Habib, Rep. Ross Hunter, and Rep. McBride
10:00am
Redmond City Hall
15670 NE 85th St, Redmond, 98052
 
---