Bring Washington Home
Bring Washington Home 
Online registration is now closed but we have room for a limited number of walk ins. Join us!
Save the Date:
Tuesday, October 15, 2019    
5:30: Networking reception and appetizers
6:30pm: Program starts Fisher Pavilion, Seattle Center
Thanks to our generous sponsors and donors, on October 9, 2018 we raised more than $84,000 to help Bring Washington Home! It's a testament to the strength of our movement that more people gathered for this night of storytelling and movement building than ever before to ensure that everyone in Washington can have access to a safe, healthy, affordable home. Help us make 2019 even better than last year! 
---
Sponsorship and Table Captains
Every year, we mobilize thousands of individuals and organizations in the movement for safe, healthy, affordable homes for all. Table captains and sponsors of Bring Washington Home make it possible for us to continue to do this work,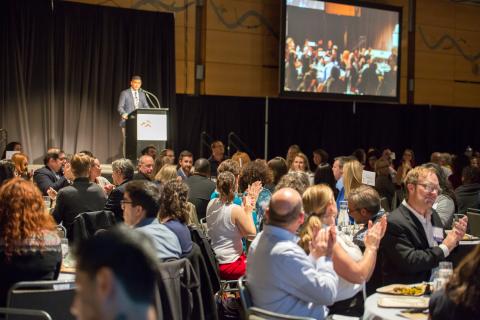 together.

Table Captains: If you're interested in becoming a table captain, be sure to contact Itzchel Bazan at itzchelb@wliha.org. For Table Captain sample invite language click here!
Sponsorships: Learn about the benefits that sponsors receive by clicking here, and become a Bring Washington Home event sponsor here!
---
Bring Washington Home 2019 Sponsors 
---
Partner Sponsors
---


---
Champion Sponsors 
---


---
Community Sponsors 
---
Housing Development Consortium 
Walsh Construction Co.
Pacifica Law Group
Bellwether Housing
Chief Seattle Club
Coho Team of Windemere Agents
Plymouth Housing Group
SMR Architects 
Community Health Plan of Washington
---
Nonprofit Sponsors
---
Multi-Service Center
Mercy Housing Northwest
YouthCare
environmental WORKS
DESC
Washington State Housing Finance Commission
Seattle/King County Coalition on Homelessness
King County Housing Authority
Catholic Charities of Western Washington & Catholic Housing Services of Western Washington
Better Health Together