Washington's housing wage rises to $36.33 per hour – fifth highest in the nation 
Full-time workers in Washington need to earn $36.33 per hour to afford a modest, two-bedroom apartment at fair market rent. This is Washington's 2023 "Housing Wage" – an increase of $5 per hour over the housing wage in 2022 – according to a report published today by the National Low Income Housing Coalition (NLIHC) and the Washington Low Income Housing Alliance.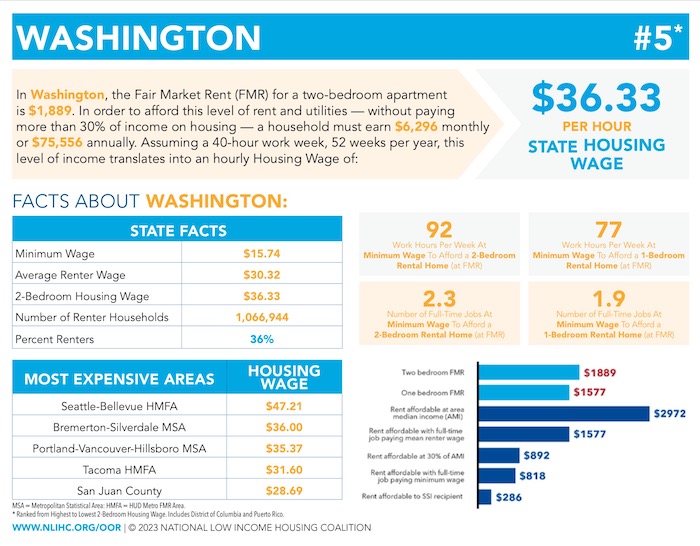 Released annually, the Out of Reach report calls attention to the gulf between wages and what people need to earn to afford their rents. The report shows that rents in Washington are out of reach for thousands of low-wage workers and other families. The report's "Housing Wage" is an estimate of the hourly wage full-time workers must earn to afford a rental home at fair market rent without spending more than 30% of their incomes – a long established standard that allows households to also be able to pay for other basic needs. Nationally, the 2023 Housing Wage is $28.58 per hour for a modest two-bedroom rental home and $23.67 for a modest one-bedroom rental home.
"Renters across Washington continue to face housing instability, as rents rise far faster than wages," said Michele Thomas, Director of Policy and Advocacy at the Housing Alliance. "While we have made some progress to protect renters in our state, we need to do far more to ensure everyone has access to stable, affordable housing. Our elected leaders across the state need to enact rent stabilization legislation to help ensure everyone in Washington has a home." 
Working at the minimum wage of $15.74 in Washington, a wage earner must have 1.9 full-time jobs or work 77 hours per week to afford a modest one-bedroom apartment and have 2.3 full-time jobs or work 92 hours per week to afford a two-bedroom apartment.
Nationally, over 25 million people work in the five most common lowest-paying occupations – retail sales, food and beverage services, food preparation, home health and personal care services, and building cleaning – whose median hourly wages are at least $7.80 less than the one-bedroom Housing Wage. And 13 of the nation's 20 most common occupations pay median wages that are less than a full-time worker needs to earn to afford a modest two-bedroom apartment at the national average fair market rent. 
"Housing is a human right," said NLIHC President and CEO Diane Yentel. "Stable, affordable homes are a prerequisite for basic well-being, and no person should face the danger of losing their home. But, as the Out of Reach report shows, too many low-income renters now face worsening housing instability, as wages stagnate, housing costs rise, and pandemic-era safety net programs close down. Addressing the country's long-term housing affordability crisis requires bridging the gap between rents and incomes through comprehensive federal legislation and adequate funding by Congress for our country's vital affordable housing and homelessness programs." 
For additional information, and to download the report, visit: http://www.nlihc.org/oor 
### 
CONTACT: Michele Thomas, Director of Policy and Advocacy, Washington Low Income Housing Alliance, (206) 442-9455 ext. 205, michelet@wliha.org