And our first annual Nancy Amidei Movement Builder Award goes to...
Alouise Urness, Community and Member Organizer
It is with great honor and excitement that I announce the recipient of our first annual Nancy Amidei Movement Builder Award -- Matthew Anderson!
(be sure to join us at Bring Washington Home on Sept 27 where Matthew will accept this award)
Matthew is the very essence of a movement builder. Every day, he represents the work the Housing Alliance is doing and works to empower the next generation of advocates in our movement for housing justice.
Matthew first connected with the Housing Alliance when he quietly came to Housing and Homelessness Advocacy Day in 2013. The next year, when he applied for a transportation grant to bring others to advocacy day, I didn't know a thing about him but I could tell how driven he was by the effort he put into that process. And it was successful: low-income housing residents arrived at advocacy day in an accessible van and the energy and enthusiasm they brought was palpable. The year after that, Matthew brought TWO vans of advocates to Olympia with him!
In 2015 Matthew organized 5 Seattle Housing Authority residents to participate with him in the Emerging Advocates Program, and in the fall he spearheaded a conference so that more SHA residents could participate in housing advocacy.
Image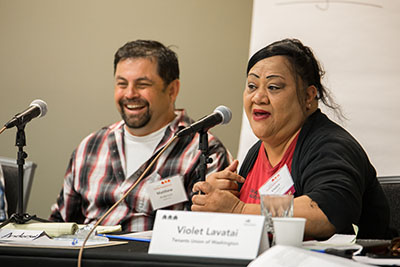 This past year, Matthew not only organized vans of advocates for Advocacy Day, but he also presented a workshop with Nancy Amidei and served as a co-lead for the 43rd district. He became a leader in (and recruited others for) the Resident Action Project, co-facilitated the Emerging Advocates Program at the Conference on Ending Homelessness, and presented on a panel workshop there. He is again organizing a conference for SHA residents, and is tapping into his theater and comedy background to lead a theater workshop in the fall for our new Emerging Advocates Program class of advocates.
Matthew is a humble leader, motivator, and organizer. He does this work not for the recognition, but for the tangible difference it makes in the lives of the people he brings along with him. I can truly think of no one more deserving of the first annual Nancy Amidei Movement Builder award.
Thank you to everyone who submitted nominations. It was really cool to see our community come together to recognize the great movement builders in the housing world. We are very excited about the work that these advocates will continue to do, and to learn more about how we can work together to realize the mission of ensuring everyone in Washington has access to a safe, healthy, and affordable home!
Nominees:
Maureen Fife, Board President, Habitat for Humanity of Washington State
Andy Silver, Executive Director, Council for the Homeless
Community Health Worker Collaborative of Pierce County
Dennis Saxman, Community Organizer, Resident Action Project
Floribert H. Mubalama, Executive Director and Board President, Congolese Integration Network
James Pickus, Volunteer, Tenants Union of Washington
Judith E. White, Chair, Legislative Action Team serving the Manufactured/Mobile Home Community in Washington
Julia Sterkovsky, Executive Director, Seattle Human Services Coalition
Anitra Freeman, Board of Directors, Real Change
Ubax Gardeere, Program Director, Puget Sound Sage
Rizwan Rizwi, Director, Muslim Housing Services
Alison Eisinger, Executive Director, Seattle/King County Coalition on Homelessness
Estela Ortega, Executive Director, El Centro De La Raza
Teresa Clark, Director of Organizing, Washington Low Income Housing Alliance (we are humbled and honored that someone from our team was nominated!)