Housing Advocacy in Action!
Michele Thomas, Director of Policy and Advocacy
Welcome to the first "Housing Advocates in Action" update of the 2017 legislative session! Watch for an email in your inbox, and a full blog post here every week or so. This update will serve as a "what's happening" in Olympia with housing and homelessness policy, and will include the best ways for you to TAKE ACTION and be a housing advocate. In the past these have been weekly emails, but with so much happening in Olympia, we didn't want to constrain ourselves to a strict timeline. These are great emails to send to your colleagues, board members, and family who share your passion for ending homelessness and expanding affordable housing opportunities. So, bookmark our blog, and watch for our emails so you're always in the know!
For this first post, on the week of Dr. Martin Luther King Jr. Day, I'd like to start with a quote:
Dr. Martin Luther King, Jr
London, December 7th, 1964
For the full speech, listen to Democracy Now 1-16-17
"The other myth that gets around a great deal in our nation and I'm sure in other nations of the world, is the idea that you can't solve the problems in the realm of human relations with legislation, that you can't solve the housing problem, the job problem, and all of these other problems with legislation, that you've got to change the heart. We had a presidential candidate just recently who spoke about this a great deal. Mr. Goldwater sincerely believed that you couldn't do anything though legislation because he voted against everything in the Senate, including the civil rights bill. And he said all over the nation throughout the election that you don't need legislation, that legislation can't deal with this problem, that you've got to change the heart. I want to go half way with brother Goldwater because I think he is right. You've got to change the heart. You must change your heart where there are prejudices. If we are going to solve the problem of mankind, every white person must look in their heart and look deep down within to challenge prejudice that may be there and believe that every negro and every colored person must be treated right… but after saying all of that I must go on to the other side and this is where I must leave Mr. Goldwater and others who believe you can't solve this with legislation… it may be true that you can't legislate integration, but you can legislate desegregation, it may be true that morality can't be legislated, but behavior can be regulated, it may be true that the law can't change the heart, but it can restrain the hardness. It may not be able to make people love me, but it can prevent people from lynching me and I think that is pretty important also."
 
Image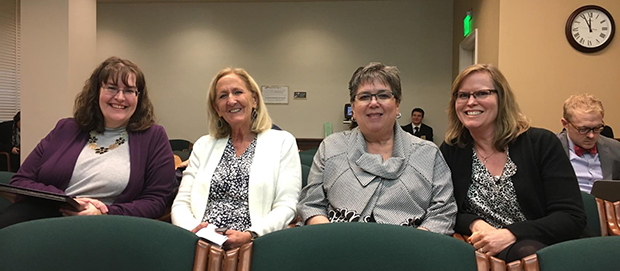 Housing Alliance advocates traveled to Olympia to educate lawmakers on the House Community Development, Housing & Tribal Affairs Committee about the importance of the Document Recording Fees in their local efforts to prevent and end homelessness. Special thanks to Kay, Rhonda, Tess and Mary Jane for their extremely informative presentations.
Pictured here: Kay Murano, Executive Director, Spokane Low Income Housing Consortium, Rhonda Hauff, Chief Operating Officer/Deputy CEO, Yakima Neighborhood Health Services, Tess Colby, Manager, Pierce County Community Connections, Mary Jane Brell-Vujovic, Director, Snohomish County Human Services Department
The Housing Alliance team hit the ground running when the legislative session started on Monday, January 9th. With two work sessions on affordable housing and homelessness, four budget hearings, and many lawmaker meetings, it was a very busy first week. But every week during the session is likely to be equally as busy, especially since our movement has done an excellent job of raising affordable housing and homelessness to the forefront of legislative priorities for many lawmakers.
With expectations low, we strive even higher.
The legislature, as in years past, is divided with the House controlled by the Democrats and the Senate controlled by the Republicans. Many are already predicting that this session, which is scheduled to end on Sunday April 23rd, will be prolonged until the day before a state budget must be signed – June 30th. Technically, the legislature's sole job is to pass a budget for the next two fiscal years, which begins on July 1, 2017. If a budget isn't passed by then, the state government will shut down. That is an unlikely scenario and expectations are that, although it may take a while, agreement on a new budget will be reached. The question is, what will be in the final budget and will it invest in affordable housing and homelessness?
The Governor invested deeply in affordable housing and homelessness – but even his budget left room for improvement. Important highlights include:
Doubling of the ABD (Aged, Blind, and Disabled) cash grant from $197 to $400. This cash grant helps extremely low-income, disabled adults meet their basic needs while they are applying for SSI. $400 puts the program on par with the average HEN (Housing and Essential Needs) rental assistance, thereby helping to prevent people from becoming homeless when they are transferred to the ABD program. This transfer, per state law, happens once someone is determined to have a permanent disability and the very low $197 per month is not enough to cover the loss of the HEN rental assistance.
$20 Million dollars for the Home Security Fund to increase resources to prevent and end homelessness. The Governor's budget would put new money from the state general fund into the Home Security Fund, allowing the state to send out more money to local communities for homelessness services. This is the same account (The Home Security Fund) that document recording fee revenue is deposited in and would fund the same kinds of critical services including domestic violence shelters, homeless youth programs, permanent supportive housing services, rental assistance, and more.
$116.5 Million for affordable housing development, plus $28 Million for weatherization of low-income single-family homes. The Governor's Capital Budget proposes a total of $116.5 million for affordable housing, including $88.8 million for the Housing Trust Fund and $10 million for the preservation of currently affordable housing that is aging. These investments are good starting point, but we are urging that the legislature to get much closer to our ask of $200 million dollars between the next two budget years (the biennium). $200 million for the Housing Trust Fund would create over 5,700 new, affordable homes while also creating 9,000 local jobs and over $655 million in local income.
In contentious times, we need to stay on course with a clear focus on the top affordable housing and homelessness priorities. As in years past, persistent, loud, and righteous advocacy can move mountains in our state. In the face of a Donald Trump becoming our nation's president and his cabinet of Wall Street, far-right extremists, it is more important than ever that our state stands up for and invests in the needs of our lowest-income neighbors. While the Housing Alliance will be leading on the top affordable housing and homelessness priorities, we will also be supporting efforts to protect immigrants, protect voting rights, protect the rights of LGBTQ communities, especially our transgender neighbors whose non-discrimination protections are under attack, and of people of color. All of these communities, and more, are being targeted, and the Housing Alliance will stand with our allies against hate and discrimination. 
Affordable housing and homelessness top priorities
Expect to see new bills filed this week that will,
Secure and preserve funding for homelessness services: Eliminate the sunset on the document recording fees, increase the fee and fix the 45% mandated use on just on purpose – private, for-profit rental vouchers.
Outlaw discrimination based on a renter's source of income: Everyone should have an equal opportunity to compete for housing, yet many landlords categorically deny applications by people relying on lawful sources of income to help pay their rent. Discrimination based on the use of a Section 8 voucher or SSI income has a profound impact on low-income households, many who have waited years for their housing assistance. It has disparate impacts on people already at high risk of discrimination based on race, disability, family status, age, or status as a veteran because all these households experience disproportionately high incidences of poverty. Local jurisdictions in our state have passed or enhanced source of income protections for renters, including most recently Vancouver, Seattle, and Renton, but this discrimination should be outlawed to ensure all of Washington's tenants are protected.
Exciting developments last week for the Medicaid Demonstration Transformation (aka the "1115 waiver for Permanent Supportive Housing):
The Health Care Authority (HCA) announced on January 9 that the federal Centers on Medicare and Medicaid Services (CMS) approved Washington's Medicaid Transformation Demonstration, also known as Washington's 1115 waiver. This includes the new supportive housing services Medicaid benefit that the Housing Alliance has been advocating for over the past several years. CMS has approved high-level "special terms and conditions", and now the HCA will work to finalize the benefit design and implementation timeline. DSHS is hosting a webinar to provide updates to stakeholders on January 26 at 8:30 AM; you can register for the webinar here.
A couple of messaging notes for advocates--the state will now be referring to the 1115 waiver as the "Medicaid Demonstration Transformation." The benefits within initiative three, which includes the supportive housing benefit, will be referred to as "Community Transition Support Services."
Lastly, here's a link to the state's official announcement.
Affordable Housing and Homelessness are top legislative priorities
Despite the grim state budget fights that lie ahead and the many scary impacts of a Trump administration, our movement has pushed affordable housing and homelessness to the forefront of Olympia's agenda. In these otherwise uncertain times, this means we have a very strong foundation to build off of and that means that we can still secure significant wins this session. But wins will require advocacy and determination, so let's start of this week with a bang. Please take action today and tell your lawmakers to support at $200 Million investment in the Housing Trust Fund, and to eliminate the sunset on Document Recording Fees and raise the fee.
Housing and Homelessness Advocacy day is a fun, uplifting and impactful day of action. And we need you!
Image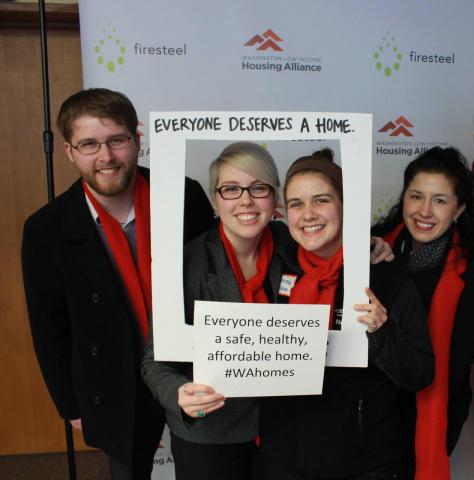 On February 2 in Olympia, over 600 advocates from nearly every district in the state will put on their red scarves and converge on the capitol for meetings with legislators, a rally on the capitol steps (one of the biggest of the year!), as well as attend workshops on important issues and advocacy skills, inspiring words from some of our legislator champions, and more. This day helps to show the depth, breadth and passion of the affordable housing and homelessness movement. And it helps move lawmakers on our key legislative priorities. Register today!
Another way to help make Advocacy Day a success is as a volunteer. Volunteers for a variety of roles are still needed, from registering attendees in the morning, to leading meetings with your district's lawmakers (this role is especially crucial - if you've been to Advocacy Day before, please consider taking it on). Sign up to volunteer here.
If you have questions about Advocacy Day, contact Alouise at the Housing AlIiance. I hope to see you on February 2!
Help us educate lawmakers with stories from people impacted by homelessness, discrimination or housing insecurity.
The Housing Alliance is in the process of creating a one-page document for each legislative district in the state that will include data about housing and homelessness, and a personal story of someone who's life is better because they have a safe, affordable home. The stories are approximately 250 words with a picture. Because session has already started, we need these stories as soon as possible for our lawmaker meetings!
We need storytellers for the following legislative districts: 1, 2, 4, 6, 7, 11, 12, 14, 15, 16, 17, 18, 25, 26, 28, 30, 31, 34, 39, 43, 44, 46.
If you have a story to share, or if you know someone who does, please email dimitrig@wliha.org and he can coordinate with you!
Do you want to testify this session? We can help!
Testifying on a bill can be an empowering experience that helps to educate lawmakers on the need to pass a bill or to invest in a program. Especially if you have a personal experience with an issue, your story can profoundly impact where a lawmaker stands. Let us know if you are interested in learning more or if you are already planning on coming down to testify. Fill out this simple survey and we will be in touch! 
Again, with expectations low for this session, we strive even higher. Together, we will continue our track-record of making significant gains for affordable housing and homelessness. But your advocacy is needed more than ever – please join us in being bold, loud and persistent.
Advocacy Calls
Starting January 20th, join us every-other-Friday at 11am for a conference call detailing the very latest on housing and homelessness priorities in Olympia. These calls will cover progress of important bills and advocacy opportunities, and you don't have to be a policy expert to follow what's happening. Calls will be held on 1/20, 2/3, 2/17, 3/3, 3/17, 3/31, and 4/14. Anyone can join, just email reinyc@wliha.org for your call in code.  
- Michele and the Housing Alliance team.
P.S. Join the Housing Alliance on Saturday, January 21st for the Seattle Womxn's March.
When: Sat. Jan 21
Meeting time: 10:00am
Meeting location: West entrance of Judkins Park near 20th & S. Charles St.

10:00am Arrive & find group - look for Housing Alliance banner and red scarves
10:30am Rally/speakers begin
11:00am March begins

End Location: Seattle Center, 400 Broad St, Seattle 98109
Route Length: 3.6 miles