Week In Housing Advocacy Weeks 7 & 8
Michele Thomas, Director of Policy and Advocacy



Image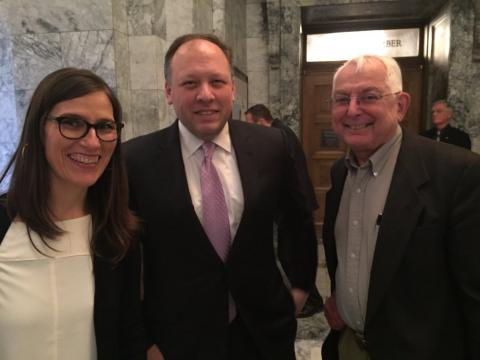 A lot has happened over the past two weeks. Several "cutoffs" have come and gone, both chambers have released their budgets, many bills have died, but some new ones were introduced (more on that below). Luckily, many good affordable housing and homelessness related bills have passed both chambers! Passing a bill is an incredible feat given that our legislature has a deeply divided political environment that is very hard to navigate a bill through. But at every tough turn, it was advocacy that escorted the bills to the next step.

But we're not done yet.

We need to keep pushing hard to help ensure that the final budgets make deep investments in affordable housing and homelessness. Please tell your lawmakers to pass the House Supplemental Operating Budget.

House Budget Invests Deeply to Alleviate Homelessness Crisis

This Thursday is the last day of the regular legislative session. If lawmakers are going to reach agreement on their budgets, they only have until Thursday at midnight to finalize the details. The problem is, their budget proposals are very far apart. As you can see in the grid below, the House makes new investments in Human Services, Mental Health and Health Care, and Early Learning and Child Care, while the Senate makes deep cuts in all these areas. They are also far apart in K-12 investments (the House comes in with $196.8 million more for schools than the Senate) and in other key budget areas.

The House Operating Budget is a great budget for affordable housing and homelessness. Champions in the House recognize that homelessness is a crisis and have proposed deep investments. Their budget includes $37.2 million for services including rental assistance and permanent supportive housing, with an additional $6.3 million for programs related to youth homelessness. Meanwhile, the Senate's budget included language that would block the opportunity to secure the much anticipated "1115 Global Medicaid Waiver". This waiver would allow new flexibility over federal Medicaid dollars to pay for the services delivered in Permanent Supportive Housing. If approved, this could bring in an additional $54 million in service dollars each year. See our budget overview for a comparison between the Governor, House and Senate budget proposals. But most importantly, it is critical that you take action today to tell your lawmakers to pass the House's budget. Your lawmakers need to know that you are watching and that you expect them to support deep investments in services and affordable housing. 

If you've already emailed your lawmakers, THANK YOU! It is critical that they keep hearing from you, especially in this last week. Please make a call to the state's toll-free hotline today to leave one message for all of your lawmakers. Call 1-800-562-6000 with a message like this:

"We must do more to prevent & end homelessness. Please pass the House's Operating Budget."

The hotline is open this week Monday - Thursday from 8:00 AM - 8:00 PM.
House Operating Budget

Senate Operating Budget

Human Services

+ 44.669 million

- 52.404 million

Mental Health

+ 26.874 million

- 18.687 million

Health Care

+ 19.310 million

- 35.747 million

Early Learning &

Child Care

+ 8.037 million

- 3.158 million
Many Important Bills Are Only Inches From the Finish Line

Let's start with the bad news. The Source of Income Discrimination bill, HB 1565 by Representative Timm Ormsby (3rd LD, Spokane) has died in the Senate Human Services, Mental Health and Housing Committee. The bill made it through the House with strong support from many champions but Senator Steve O'Ban (28th LD, Lakewood) chair of the Senate committee, failed to bring the bill up for a hearing and a vote. This bill would outlaw discrimination based on a renter's use of rental assistance or other government assistance to help pay the rent. People relying on retirement benefits or social security would have been protected as well. Currently, many landlords categorically deny housing to whole groups of people even though they have the resources to pay the rent. This denial of housing is often a proxy for discrimination already outlawed including racial, familial status and disability related discrimination.

Even though the bill didn't make it through the whole process, the public testimony, the significant news coverage and the many conversations had with lawmakers have together built a strong foundation to keep moving this issue forward. Special thanks those of you who shared your personal stories of experiencing discrimination. And please join us throughout the interim (spring, summer and fall) in activities to get ready for next session, including meetings with lawmakers, story collection and more. Contact Teresa to learn more about how you can help: Teresac@wliha.org.

Now for the good news!

Several important bills have made it through both chambers and just have one last small step to go before they are delivered to the governor for his signature. Thank you for all you've done to help escort these bills through!



Image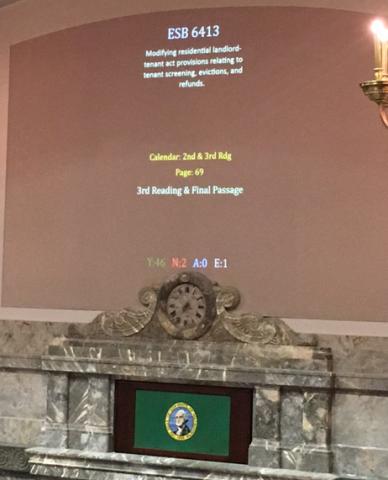 SB 6413 by Senator Mullet (5th LD, Issaquah) unanimously passed the House early last week, after passing the Senate in February. A small amendment was made in the House so the bill will have to go back to the Senate for "concurrence" with the change. Because the change is minor and agreed upon by all parties, the concurrence process should be quick and not present any problems.

This bill moves us forward on the Fair Tenant Screening Act by defining a portable report and requiring landlords to disclose if they will accept a portable report. The bill also creates a new process for tenants to remove certain eviction records from inclusion in tenant screening reports. And it also provides landlords with 7 additional days in which to postmark the return of a deposit, moving the timeline from 14 to 21 days. Please thank Senator Mullet for his leadership on this bill! You can call his office with a quick thank you message at (360) 786-7608.

HB 2971 by Representative McBride (48th LD, Kirkland) unanimously passed the Senate early last week. This bill also had a small technical correction made in the Senate that has to be concurred to by the House. Again, this is a minor change agreed to by all parties and should not present any obstacles.

The bill corrects a problem created by a bill last year (HB 2122) which had language inserted during the third special session which prohibits local jurisdictions from passing ordinances to protect renters (such as local source of income discrimination ordinances) if they also used the flexibility over certain tax proceeds that the bill otherwise provided. There was no nexus between tenant protections and the taxing authority and there had been no public hearing on the language. After we raised the alarm and after several stakeholder meetings that began last winter, agreement was reached in session on how to address the problem. We are very happy that we were joined by the Association of Washington Cities, the Association of Washington Counties and the state Realtors association to get this bill passed. Please thank Representative McBride for her leadership on this bill! You can call her office with a quick thank you message at (360) 786-7848.



Image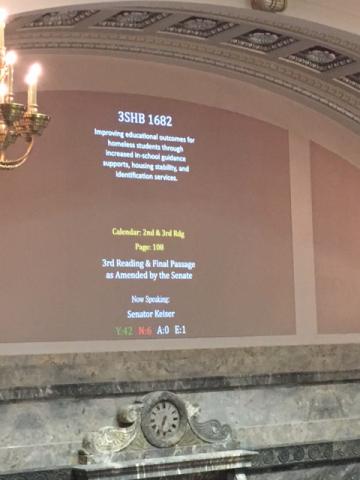 HB 1682 by Representative Fey (27th LD, Tacoma) passed the Senate with a strong bipartisan vote and now also has to go back to the House for concurrence. This bill is known as the "Homeless Student Stability Act" and will provide additional support for homeless students and their families, and to schools to better identify homeless students. Congratulations and thank you to our partners at Columbia Legal Services, especially Katara Jordan and Hillary Madsen who have worked for years on this important issue. And please call Representative Fey with a quick thank you message for his leadership at (360) 786-7974.

HB 1875 by Representative Walsh (16th LD, Walla Walla) passed the Senate unanimously and now has to go back to the House for concurrence. This bill will allow TANF recipients to participate in a two-year vocational education program instead of just one year of the program. This is critical in helping people earn the skills they want and need to get a living wage job. Please thank Representative Walsh for her strong leadership on this issue: (360) 786-7836.

Fate of Some Bills Still to Be Determined

Senator Nelson's Bringing Washington Home Act, SB 6647 had a hearing last Wednesday morning, but the Senate Ways and Means committee has not brought it up for a vote. Since they heard it after the policy bill cutoff, they seem to agree that the bill is not subject to the ordinary deadlines. This can happen when a bill is deemed "necessary to implement the budget" (also referred to as "NTIB"). The Bringing Washington Home Act would invest almost $200 million dollars in homelessness and affordable housing, including the Housing Trust Fund. The resources come from the state's Rainy Day Fund, which is a large pot of money set-aside for emergencies and budget shortfalls. As Senator Nelson has said, homelessness in our state is an emergency and the state should being doing a lot more to address it.

A new bill, 6671 by Senator Hill (45th LD, Woodinville) was introduced last week. It was heard on Wednesday and voted out of committee the next day. It is late in the session for new bills to be introduced so this bill was a surprise. It largely reconfigures reporting requirements of the Department of Commerce and adds new reporting requirements on counties. All counties receiving state homelessness dollars would now be required to provide yearly reports to the legislature on their progress in meeting the goals of 5 year plans to end homelessness (changed from 10 year plans).  Overall, the bill isn't a problem but it misses the mark. To end homelessness, our state needs to invest in affordable housing, invest in mental health and chemical dependency services, end source of income discrimination and invest in more rent subsidies, and invest in safety net services for unaccompanied homeless youth, protect renters and ensure everyone has the opportunity for a living wage job. Studies and plans alone can't end homelessness.

Helpful Links to Navigate the Legislative Process

The legislative process can be a bit self-referential and exclusive. But the state's website and the Legislative Information Center are extremely helpful resources. Below are some links that we think are particularly helpful.

Let us know if you have questions about the process or have ideas on topics we should go into more depth on during the Housing Alliance's "Learn at Lunch" calls and webinars that will be held this spring and summer. Email Teresa with your ideas at TeresaC@wliha.org.
 

Conference on Ending Homelessness is Coming Up!

The annual Conference on Ending Homelessness is May 11 and 12th at the Spokane Convention Center. Scholarship applications and registration will open on March 14th. Mark your calendars now because this will be a dynamic and informative conference with something for everyone who wants to prevent and end homelessness. Whether you are a social worker, an advocate, someone with personal experiences of homelessness or a volunteer board member this conference will be full of information you won't want to miss. Highlights for advocates include legislative workshops, an unveiling of a new toolkit to combat the criminalization of homelessness, and a workshop on how to help prevent the document recording fee cliff in 2019 when $30 will sunset.

Thank you for Your Advocacy

This legislative session has proved that it is advocacy that makes the difference. You can see it pay off firsthand when you spend as much time in Olympia as I do. If you sometimes feel like making another call or sending another email won't make an impact, please consider how high of a priority affordable housing and homelessness has become for our lawmakers. It's because of relentless and strategic advocacy that bills like the Bringing Washington Home Act were introduced and that so many good bills have passed this year. Advocacy can stand up to and overcome the other forces that influence Olympia such as deep campaign contributions. Our movement, and you, are being heard. Please keep it up and work to bring in others. Encourage your networks to join you in advocacy by sharing Housing Alliance alerts on Twitter and Facebook.

And thanks for all you do,

Michele