Webinars and Tools
Learn at Lunch Webinars
Our Learn at Lunch webinars are opportunities to deepen your understanding of our State Legislative Agenda and Federal Legislative Policy Issues. Learn at Lunch features expert guests who explain the issues in a clear and accessible way. And perhaps most importantly, you can access these midday webinars from the comfort of your own home or place of work, as long as you have a computer and Internet access.
---
Past Webinars
Updates from the 2019 Legislative Session: New Policies Strengthen State Safety Net, Boost Consumer Protections, and Protect Civil Rights
September 24th
---
Running a Successful Campaign to Pass a Local Affordable Housing Option
Monday, July 22nd
---
Organizing for Implementation of HB 1406 in Your Community – new funds for affordable homes!
Thursday, June 6th
Webinar recording
---
Deep Dive into State Level Funding for Affordable Homes and State Policy Impacting the Cost of Building Affordable Homes
Tuesday, May 28, 2019
Webinar recording*
 
*Correction to recorded webinar: 
During the webinar, we discussed Housing Trust Fund budget language requiring the Department of Commerce to prioritize loan deferment for projects serving extremely low income households (earning 30% of the area median income). The Governor vetoed that language when he signed the budget bill. Here is his veto message:
Governor's veto message:
Section 1029(5), page 17, Department of Commerce, 2019-21 Housing Trust Fund Program
(40000036)
I commend the Legislature for the capital budget appropriation of $175 million for the Housing Trust Fund program. This vital funding will help preserve and build affordable units to address our state's housing crisis. I share the concern that some projects serving those most in need lack sufficient funding streams to support long-term operations and services. However, Section 1029(5) directs Commerce to prioritize loan deferment for nearly all projects funded by the Housing Trust Fund. This proviso does not recognize that most of these projects serve a mix of households, including many that pay rent. Loan repayments from developers who receive rental income are reinvested in future Housing Trust Fund projects. I am directing the department to work with stakeholders and legislators to develop a fair and transparent policy for loan repayments, with the goal of ensuring the long-term viability of the state's affordable housing investments. For these reasons, I have vetoed Section 1029(5).
---
Deep Dive into Eviction Reform SB 5600 with special guest Edmund Witter from the King County Bar Association's Housing Justice Project.
Wednesday, May 22, 2019
Webinar recording
---
Understanding Evictions and Fighting Anti-Black Racism with Housing Justice
Tuesday, February 26, 2019
Join Dr. Tim Thomas from the University of Washington to hear about how evictions disproportionately impact Black women, reinforce inequitable outcomes in the Black community, and serve as a canary in the mineshaft for dismal housing outcomes across the board.
---
Getting Ready for Advocacy Day 2019: Advocacy 101 & Giving Testimony
Thursday, February 21, 2019 
Get tips about how to be effective at Housing and Homelessness Advocacy Day, and strengthen your skills in crafting and giving testimony with Legislative Session Policy Analyst John Stovall and the Share Your Truth Campaign. Also, hear about the Housing Funding Package Day of Action on February 21!
---
Legislative District Lead Prep for Advocacy 2019
Thursday, February 14, 2019
Join the Housing Alliance to hear about what to expect in leading your community members in lawmaker meetings at Advocacy Day! A panel of seasoned Legislative District Leads from around the state will share tips and speak on successfully facilitating diverse groups and engaging their lawmakers.
---
Martin v Boise: Challenging Laws that Criminalize Homelessness
Thursday, December 6, 2018
Join the Housing Alliance for an in-depth look at what the recent 9th Circuit Court of Appeals ruling on the criminalization of homelessness means for Washington state. Known as Martin v Boise, this ruling may impact the ability of local governments to enforce their current laws that criminalize homelessness. Learn what the ruling means and what it doesn't mean for people experiencing unsheltered homelessness. Legal experts Sara Rankin, Associate Professor and Director, Homeless Rights Advocacy Project with Seattle University and Tristia Bauman, Senior Attorney with the National Law Center on Homelessness and Poverty will provide an in-depth analysis for advocates in Washington.
---
Election Outcomes and the 2019 Advocacy Landscape
Wednesday, November 21, 2018
After a few weeks to decompress from a high-stakes election season, we will provide an analysis of 2018 state-level election outcomes, and what they mean for the paths forward on our 2019 policy priorities in the state legislature.
---
Understanding Washington's New Protection from Source of Income Discrimination
Wednesday, November 14, 2018
On September 30th 2018, new statewide protections went into effect that outlaw discrimination against tenants based on their use of income or rental assistance to help pay the rent. The new law also established a mitigation fund which includes some important tenant protections as well. Join this webinar to hear from attorneys Scott Crain and Adam Chromy of Northwest Justice project to get a thorough rundown of the new law. Learn how it protects tenants and how to enforce it, and learn how to fight back if landlords erroneously claim it does not apply to them.
---
Announcing Our 2019 Lead Legislative Agenda
Tuesday, October 23, 2018
Hear from Policy and Advocacy Director Michele Thomas about the legislative items that the Housing Alliance will lead on in 2019 to increase access to affordable homes and rental assistance for people who have short-term and permanent disabilities, and build stronger tenant protections.
---
Advancing Your Mission Through Nonpartisan Election Season Activities
Monday, September 17, 2018
Join the Housing Alliance and Jeff DeLuca of the Washington Community Action Partnerships to learn about how 501 c(3) nonprofit organizations can promote voter education and engage with candidates to advance their work. Board advocates and staff that work with organizational volunteers are encouraged to attend.
---
Pro tip: Interested in a topic but not available at the time of the webinar? Register anyway and you'll receive a copy of the slides and a recording of the webinar after it's over!
For more Learn at Lunch webinar archives, click here.
---
2018 Legislative Session Advocates Calls
Every other Friday during the legislative session, all affordable housing and homelessness advocates were invited to join us for a conference call and webinar to hear the latest updates from Olympia! Our policy team reported back on the progress of our lead policy priorities, as well as bills from our partner organizations that we are supporting. 
Listen:
Jan 17: Overview of the Housing Alliance's lead policy agenda and a recap on the first week of the legislative session.
Feb 9: A recap of how the Capital Budget was passed, updates on our other lead priorities, and info on bills from partner organizations we're supporting.
Feb 23: An update on housing bills that survived (or didn't survive) policy and fiscal committee cutoffs. Plus, something to celebrate!
---

Toolkit to Combat the Criminalization of Homelessness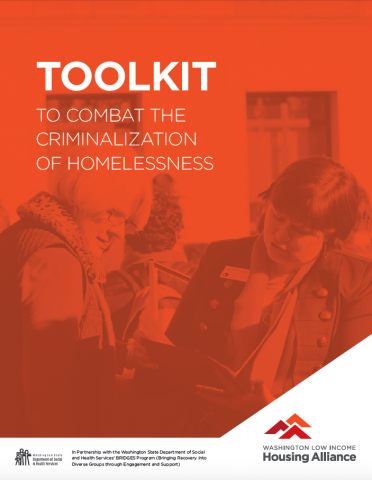 Pervasive myths and stereotypes about chronic homelessness have led to the pursuit of 'solutions' - like criminalization - that only exacerbate the problem and lead to more human suffering. That's why we created the Toolkit to Combat the Criminalization of Homelessness. You can access the toolkit in its entirety, or download individual sections and fact sheets here. 
---
Medicaid Academy
At the 2016 Conference on Ending Homelessness in Spokane, WA, the Housing Alliance held a day-long training to understand Washington's new Medicaid Transformation Demonstration. 
The pre-conference Medicaid training was intended to provide permanent supportive housing providers and those interested in serving this population with information about the new supportive housing services Medicaid benefit. The training provided background information about the Medicaid program and 1115 waivers, information about what supportive housing services CMS would likely approve to be covered by the new benefit, which Medicaid beneficiaries would be eligible, and what steps your agency needs to take in order to utilize this exciting new opportunity.
Find the program information page here, packed with materials and background information on the new Medicaid benefit.