Lifelong Advocates Are Born Out Of The EAP Program
Matthew Anderson, EAP Graduate, Housing Advocate

At this year's Conference on Ending Homelessness, I had the opportunity to help with the Emerging Advocates Program (EAP). The experience was especially rewarding to me, because I am an EAP graduate. The program has changed my life, my work, and it is very dear to my heart. If you read this post and feel inspired like I am, I encourage you to apply for the EAP fall session, which runs September-November, 2016. Applications are accepted until July 24, 2016.
EAP is an intense advocacy-training program for individuals that have experienced homelessness and are currently advocating for housing and social justice issues. This year's cohort consisted of 22 advocates. It was an extraordinary experience to hear their stories, to learn about their work, and to witness their passion.  The conference program for EAP consists a jam-packed day of training the day before the conference begins, EAP approved training during the conference, and a debrief session.
Image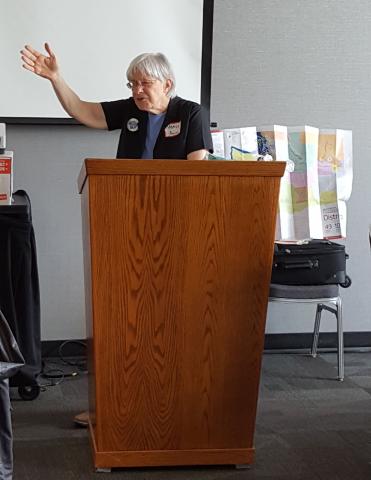 The first part of day one consisted of an introduction to the Housing Alliance and an Advocacy Workshop by Nancy Amidei. During a workshop discussion, a participant stated, "how important it was to do advocacy work," especially since he could "not vote due to a past felony." Immediately Nancy asked him if his time and supervision was completed. He said, "oh yeah, for quite some time." Nancy explained to him that he was eligible to vote, and took a voter registration card out of her bag. Within minutes it was completed and in a stamped envelope. The impact and celebration from the room was electric!
The afternoon featured two workshops, one on housing policy and the other on how to tell your personal story. It was eye opening how many of us at the workshop had benefited from the funding and policies that the Housing Alliance has advocated and fought for! It helped to go more in depth on what's happening in Olympia, and to discuss how EAP participants are working on these issues in their own communities.  The story-telling workshop was emotional. It is still difficult for many of us to write down and reflect on our story, because it means having to go back and relive times of hopelessness, hurt, and the struggles related to experiencing homelessness and other traumatic situations. I have to say, this workshop was done in a safe, welcoming, and confidential environment. It was also a way to practice the shorter versions of our stories; the things we want our legislators to hear and understand. At the end of the workshop, it was clear that everyone had become closer and shared a special bond.
The EAP dinner consisted of graduates from previous years and the new attendees in Spokane -- what a powerful group! It just felt right being there. It was like being with family. Hugs were abundant, and it was easy to see the room was full social justice advocates. Every time I am around people from my class and others, I witness that look of love in their eyes. It was awesomeness at its best!
Image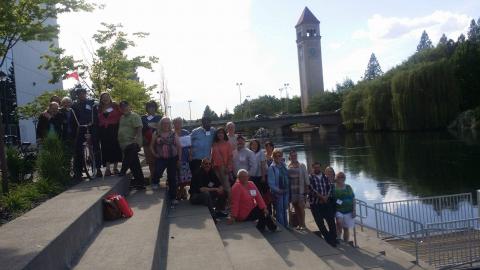 Over the next 2 days, participants attended their choice of EAP approved conference workshops, and the Been There Breakfast.  I was the facilitator of that breakfast; a safe space where everyone could talk about the training, the conference, and how their lives were impacted. Day one had paid off not only in excellent training, but also in bringing the group closer together. One attendee, Billy, commented that, "knowing other people from EAP really made the workshops at the conference better and more comfortable", and many others shared this sentiment.
At the end of the conference the EAP participants attended a debrief session that I will never forget, it was just one of those incredible experiences that stay with a person. Everyone sat in a big circle and talked about what they got out of the training. Every person, almost to a tee, talked about specific ways they could take what they learned and immediately incorporate into the work they do, and how important the relationships they had made were. The passion and love in the room was incredible. When each person spoke it was clear that, if you were hurting, or needed help, this was who you would want to grab your hand and pull you up. We went out to take a group photo and the last thing I heard was "hey there is a feed tomorrow, is anyone available?"
Here is what EAP some participants had to say:
Alfredo
"Meeting all the other advocates really reminded me of how our causes overlap. It's not just what I am doing that is important, but what we are doing to change the situation with housing and social justice.  Alfredo went on to say, "if I had to put into words what I got out of EAP, it is the fact that it ignited a fire, a fire that was already there but it wasn't hot like it is now!" Alfredo gave an example of this, he is holding a direct action to try to get the sit and lay policy changed in Spokane.
Renee
"I'm a homeless advocate, that's currently, homeless. This isn't my first time homeless, but prior to being homeless.... I've always had a passion to advocate for the homeless. 
With that being said, I cannot find words to express how much I enjoyed the conference in Spokane 2016. I enrolled and applied for a scholarship to the EAP part of the conference. As you guessed, I was selected."
"The other applicants and the staff are so totally committed to the mission. The training you receive really helps you step up your advocacy work with elected officials, in a manner that is empowering. So empowering, you feel confident to talk with electeds in every forum you see them in."
Billy
"The Emerging Advocates Program is awesome! Were already connecting a network of organizations through all of these truly amazing people. Coming up with plans of action to advocate more effectively. I love being in a room with so many altruistic people who share the same passion for improving the lives of others. Feels kind of good being in their presence when they are so few in everyday life... But we are all here to change that!"
Image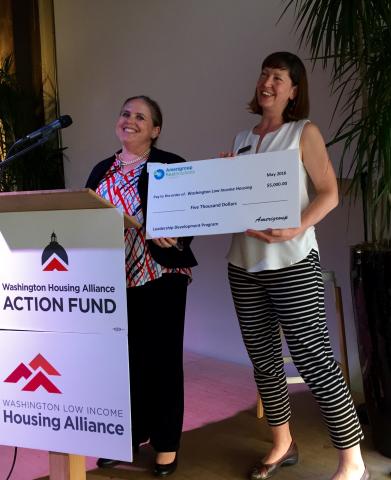 EAP wouldn't be possible without community support. Amerigroup Washington recently presented a $5,000 contribution in support of the Emerging Advocates Program, because they believe in aiding leadership development and advocacy support for individuals with direct experience of housing instability or homelessness. The check presentation took place at the first joint Housing Alliance and Housing Alliance Action Fund Member Meeting, in April. 
For more information about the Emerging Advocates Program, visit www.wliha.org/eap.