Testifying in Olympia for the First Time: Advocates Share Their Experiences
Posted May 13, 2019 - 9:42am
By Karl Epps and Susan Olson
Karl Epps is a recipient of Housing and Essential Needs assistance in King County and a dedicated advocate. In addition to testifying on the House and Senate Operating Budgets this year, Karl spoke on a panel sharing his personal experience of homelessness and recovery with lawmakers, staff and media. He works at Amazon and plans to go back to film school.
Susan Olson serves on the State Advisory Council on Homelessness. Drawing on her own experience, she is a fierce advocate for those who have been incarcerated, struggled with substance use disorders, and experienced homelessness. This year, Susan testified for the first time on the Senate Operating Budget, urging lawmakers to fund HB 1406/Robinson. Susan is about to earn her B.S. in Human Services with a concentration in addiction.  
Before you gave testimony for the first time, what did you think it would be like?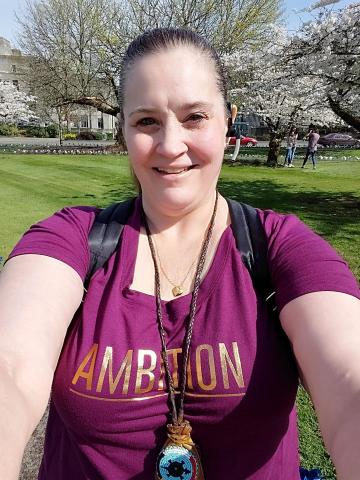 Susan: I had this feeling that it was going to be stuffy, and because I wasn't a big lawyer or something, that my voice wouldn't be valuable. And I was scared of the process because I had seen the videos but I had never sat through the process.
Karl: I thought it would be more intimate, and not so formal. I'll admit I was a little apprehensive, but ultimately I was prepared for it because I was speaking from the heart. 
What was the most surprising part of the experience for you?
Karl: Definitely the time constraints. Having to crunch it down. And the fear of the unknown and speaking in front of people I don't know. But once I got together with y'all [Housing Alliance staff] to collaborate, it helped me focus.
Also, people were actually genuine. I watch the news and look at all these politicians up in Washington, so that's kind of what I thought it would be like. But people seemed to genuinely care, so I was pleasantly surprised by that!
Susan: The only thing I wasn't prepared for was that it was a long day! [Note: The Senate Budget hearing had over 170 people signed up to testify and took over four hours.]
Why was giving testimony so important to you?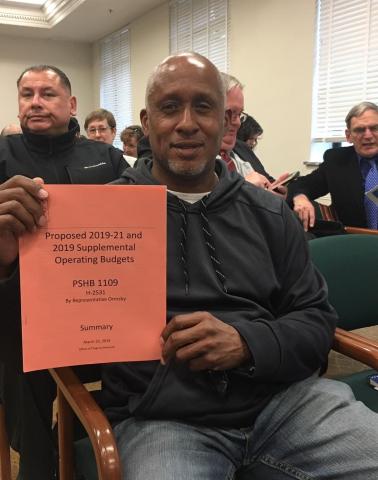 Karl: Basically it's giving voice to the voiceless…I always felt that with the shiny houses up on the hill and people living under the bridges, it's just not sustainable. And there's more than enough to go around. My Mom, before she passed, had a job registering people of color to vote at the voter registration office. It's something that she felt strongly about, advocacy for those that are underrepresented. I just wish she was there with me. Cause she would've spoken up too. 
Susan: My stepfather was the most amazing man I've ever met, and my mother was amazing. Unfortunately, they both passed while I was in active addiction. And now I'm getting ready to graduate and my parents couldn't be here. During my testimony, I was wearing my step-father's medicine bag. He wore that everyday. And in it were the ashes from my Mom and Dad. That testimony was the first time I've ever worn that because I wanted my parents with me. When I wore it, it had to be some for something very important, and that was very important. When I left after testifying, I can't explain to you the peace I felt.
What is one thing you want people to know who might want to testify?
Karl: It matters. I know the idea of writing a letter is hard to do, or even an email or a phone call, but once you're there you hear the stories, and you just never know who you're going to affect. So get out there and tell your story because, until they see a human being, people might not be able to relate. If they see someone who went through treatment or who went through homelessness, who's now working at Amazon and going to film school – like me – it can make all the difference. 
Susan: With my background of incarceration and addiction and all the other things in my history, we get to the point where we don't think that we are valuable, our voices are not valuable, our experiences are not valuable. And that's the farthest thing from the truth. This is a quote from Glenn Martin, the founder of JustLeadershipUSA: "The people closest to the problem are closest to the solution, but usually have the least amount of resources to do it." And every time I do anything like this, I'm modeling resiliency and empowerment to the people that come behind me. That is very important.
Each legislative session, the Housing Alliance supports advocates to testify in Olympia on critical legislation related to housing and homelessness. This year, 34 different advocates testified on 21 different pieces of legislation, bringing the sorely-needed expertise of people with lived experience to improve state policy. Thank you to first-time testifiers Karl Epps and Susan Olson for sharing their experiences for this blog. You can hear Karl's testimony from March 25th at the House Appropriations Committee here, and Susan's testimony from April 1st  at the Senate Ways and Means Committee here.