The Week in Housing Advocacy - Week 3
Rachael Myers, Executive Director
This week was a whirlwind of housing and homelessness advocacy in Olympia. The week started off with an advocacy bang as more than 600 advocates flooded into the capitol for Housing and Homelessness Advocacy Day. Then it ended with, of course, an awesome win by the Seattle Seahawks and some movement on our priorities. But we'll need you to help get these bills through the finish line and onto the governor's desk. So please, first take action:
Take Action
By February 7, all bills need to be voted out of their respective policy committee. That's where you come in! We need you to turn the pressure up on your senator and your representatives by telling them to support passage of the Document Recording Fee (HB 2368/SB 6313) and Fair Tenant Screening Act, Part 3 (HB 2537/SB 6291) bills out of their respective committees. Go here to start the email-sending process.
Housing and Homelessness Advocacy Day
This was, of course, the biggest housing and homelessness related news from Olympia last week. On Tuesday, January 28, 605 people representing 41 legislative districts went to Olympia and attended 108 meetings with lawmakers and/or their staff to advocate for an affordable home for everyone in Washington.
Maybe most impressive was what a diverse group of participants it was! The day was translated into three languages. Real Change News, Low Income Housing Institute, Catholic Charities Housing Services, Seattle Housing Authority's Resident Action Council, and many others brought groups of tenants and residents. The Campion Foundation helped out with transportation so we had groups from all over the state, including Bellingham, Yakima, Spokane, the Olympic Peninsula, and Vancouver.
Almost one out of every five Advocacy Day attendees identified themselves as a member of nonprofit board. (Learn about getting your board involved in advocacy here.) Homestead Community Land Trust board member Tim Morley spoke about why the Homestead board has committed to advocating:
Image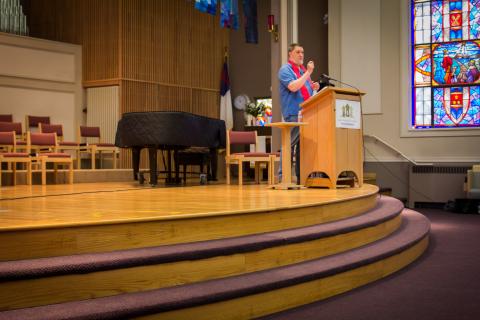 Homestead Community Land Trust board member Tim Morley addressing advocates. 
"As treasurer, I have some insight into the resources necessary to achieve our mission. I can tell you frankly that we rely heavily on public funding. There's no other way to say it. We work hard to augment that funding with private and corporate donations and fees from operations, but just as my house is my foundation, public funding is the foundation of Homestead."
Later, Advocacy Day participants gathered on the steps of the Legislative Building, got pumped up for the rest of the day with a series of rally chants, and heard from housing champion legislators Senator David Frockt (46th Legislative District) and Representative June Robinson (38th Legislative District and former president of the Housing Alliance board). Both talked about the challenges ahead in this session encouraged the participants to continue contacting their elected officials both in-person and via email and phone on supporting policy that increases affordable homes and ends homelessness.
Image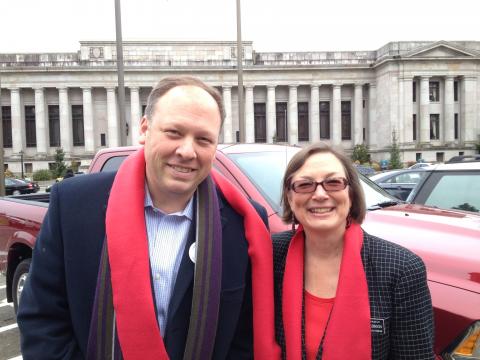 Overall, feedback from advocates was overwhelmingly positive, with many talking about how inspired they felt meeting with their legislators one-on-one and hearing their responses to housing and homelessness priorities. Another popular highlight was a photobooth set-up by our partners at Firesteel. You can see over a hundred advocate photos at the Firesteel Facebook page here. Firesteel also produced this video connecting education outcomes with having a home. This summed up nicely the overall theme of the day, which was"...it all starts at home..." Whether the goal is to improve education or to increase healthcare access, having a home is often the first step!
Closer to Ensuring Sun Never Sets for Document Recording Fees
This week, we also saw some movement with our legislative priorities. We moved a small step closer to ensuring document recording fees continue so that effective homeless services can continue in counties across the state. The House version HB 2368 had an executive hearing in the Committee on Community Development, Housing & Tribal Affairs last Tuesday, January 28, where it was passed as a substitute bill. The committee had to adjust the language of the bill. It moves on to the Appropriations Committee, which oversees bills that have to deal with money. Meanwhile, the Senate version SB 6313 just had a public hearing in the Financial Institutions, Housing & Insurance Committee last Thursday, January 30. It's absolutely crucial you take action and tell your senator to support passage of SB 6313 out of this committee. Go here to take action!
The Next Step to Fairer Tenant Screening Reports
Portable and common sense tenant screening report legislation is moving through committees at a slower pace than document recording fees. We had some amazing testifiers speak at a House hearing last Friday, including Jason Bragg, a veteran parent of the child welfare system and a graduate of drug court in Snohomish County. Check out his testimony recounting his struggle trying to find a stable place to live with his fiancé. At one point, he had to pay more than $500 in tenant screening report fees! You can see his testimony here. Even with such passionate, personal testimony, this legislation is moving through the committees at a slower pace than document recording fee legislation. SB 6291 needs to be passed from the Senate Financial Institutions, Housing & Insurance Committee by the February 7 cut-off and HB 2537 needs to be voted from the House Judiciary Committee by the same date.
But one of the highlights from last Friday's House Judiciary Committee hearing was our own Rep. June Robinson, sponsor of the bill. After she addressed the committee about the bill, she was corrected by committee member Rep. Steve Kirby (29th District) on introducing her bill. You'll have to just see this for yourself:
This Week in Housing Advocacy
By this Friday, February 7, all bills need to be voted out of their policy committee in order to advance. Anything that hasn't moved by then is considered dead for this year. That's why your advocacy this week is absolutely crucial! We need our legislators to support passage of the Document Recording Fee (HB 2368/SB 6313) and Fair Tenant Screening Act, Part 3 (HB 2537/SB 6291)! Start by clicking here.
Congratulations!
And I can't end this blog post without also congratulating 2014 Super Bowl Champs, the Seattle Seahawks! Don't forget. Rep. June Robinson was right. As she foretold above, our legislation is good for the Seahawks! 
---