The Week in Housing Advocacy - Week 7
Michele Thomas, Director of Policy & Advocacy
Ben Miksch, Affordable Housing Policy & Advocacy Specialist
Kate Baber, Homeless Policy & Advocacy Specialist
Last week was so full of ups and downs, so full of developments, twists, and turns, that it is really hard to believe all the action was packed into just five days.
Monday
The week started with the release of the Senate Operating and Capital Budgets with a mysterious placeholder for a bill with no content about the Housing & Essential Needs (HEN) and Aged, Blind & Disabled (ABD) programs (see below for an explanation).
Tuesday
ESHB 2368, the Homeless Housing & Assistance Surcharge Bill (aka the Document Recording Fee Bill), was heard in the Senate.
Wednesday
The House released their budgets with a very disappointing Housing Trust Fund allocation.
Thursday
The Senate Financial Institutions, Housing & Insurance Committee heard SHB 2537, the Fair Tenant Screening Act. Then that same committee failed to vote on ESHB 2368 when Senator Jan Angel (R-27th LD) refused to allow a vote.
Friday
Senator Sharon Nelson (D-34th LD) attempted a dramatic floor procedure called a "Ninth Order" to force a vote on ESHB 2368. It failed, but it raised the stakes and the profile of the bill dramatically.
And all week, impressive numbers of advocates across the state were taking action to tell lawmakers to do the right thing. The week of action culminated on Friday with a Capitol Call-in Day of Affordable Housing and Homelessness Action. By midday, so many people had joined that the state hotline operators reported a huge volume of calls.
Take Action: Continue the Calls!
With less than two weeks left (session is scheduled to end on March 13), we've got to keep the pressure on our lawmakers to invest deeper in the Housing Trust Fund and to pass ESHB 2368 without significant compromises! If you haven't taken action yet (or lately) please do today. It isn't too late to call. If you already called on Friday, please find at least one person today that didn't, and ask them to call. Share with them how easy it was and offer to stand by their side while they make the call themselves. Here is the phone number and sample script:
Call 1.800.562.6000 between 8:00am-8:00pm and leave one message for all of your lawmakers (including the Governor):
"Please make sure the homeless housing and assistance surcharge fees don't sunset by supporting E-S-H-B 2368. And neither the House nor the Senate Capital Budget invests enough in affordable housing. Please help ensure all Washington residents have opportunities for safe, healthy affordable homes by making a deeper investment in affordable housing."
Read on for detailed updates (and don't miss the update on the Document Recording Fee Bill).
Special Thank-Yous
Dave Finet from the Opportunity Council who drove from snowy Bellingham *twice* to testify for the Document Recording Fee Bill and for the Housing Trust Fund.
Thomas Green who came for the third time this session to share his personal story to illustrate the importance of the Fair Tenant Screening Act.
All the dedicated Vancouver advocates, including Andy Silver and Craig Lyons who have gone above and beyond to organize their community and educate their lawmakers to pass the Document Recording Fee Bill!
And again, thanks for being an advocate for affordable housing and ending homelessness.
The Housing Trust Fund
The Housing Alliance was extremely disappointed with both the House and Senate Capital Budgets. Although the Senate's lack of any appropriation was no surprise, the House's low appropriation was. We knew that the capacity of the Supplemental Capital Budget was very low, but we had hoped for a deeper investment.
The House budget allocated $5 million for energy efficient housing (this was originally in the governor's budget). The House also allocates $2 million for weatherization of homes for low-income homeowners. This program pays for weatherization specialists to perform air-sealing work, to add insulation, to seal leaky duct seams, and to replace inefficient appliances in the homes of low-income residents. And the House budget also includes a $6 million pot that housing for people with chronic mental illness can apply for (although they will compete with a large list of other important capital needs related to treatment for people with mental illness). Additionally, the House also funds a handful of individual projects, including a King County Housing Authority project called Vantage Point.
We also have a new budget tracking tool that allows you to quickly compare all three budget proposals.
Housing and Essential Needs/ Aged, Blind & Disabled and the Mysterious Bill Unveiled
The House of Representatives' supplemental budget proposal makes no changes to the Housing & Essential Needs (HEN) and the Aged, Blind & Disabled (ABD) programs that offer various types of assistance to people with long- and short-term disabilities. The 2013-2015 Biennial Operating Budget's HEN and ABD appropriations are carried forward.
A collective sigh of relief was exhaled across the state last week when the Senate's Operating Budget made no attempt to gut HEN and ABD. Another sigh of relief happened when the content of a mysterious new bill was revealed on Tuesday.
The bill in question was SB 6573. The Senate's supplemental budget proposal assumes the passage of this bill. Senate Bill 6573 basically changes the definition of disability for the HEN and ABD programs. If passed, this bill would result in $850,000 in ABD and Medicaid savings due to ABD recipients moving from ABD to HEN, and then from "Presumptive SSI" Medicaid to "expansion" Medicaid (that's the Medicaid that has been expanded thanks to the Affordable Care Act). The Senate proposes to transfer this savings to the Operating Budget's General Fund. We support SB 6573, but believe the savings should be reinvested into HEN to accommodate the resulting pressure on the HEN caseload. This is especially important since HEN is nearly at capacity and may not be able to serve a larger caseload without additional resources.
The Senate's budget proposal also assumes $600,000 in HEN and ABD incapacity exam savings due to Medicaid expansion. This savings is transferred to the operating budget's general fund. We are concerned that this saving assumption is too high, and we believe any savings should be reinvested back into HEN and ABD rather than the general fund.
The Housing Alliance urges the legislature to pass SB 6573 and to reinvest its savings into HEN. Any incapacity exam savings should be reinvested back into HEN and ABD. 
Image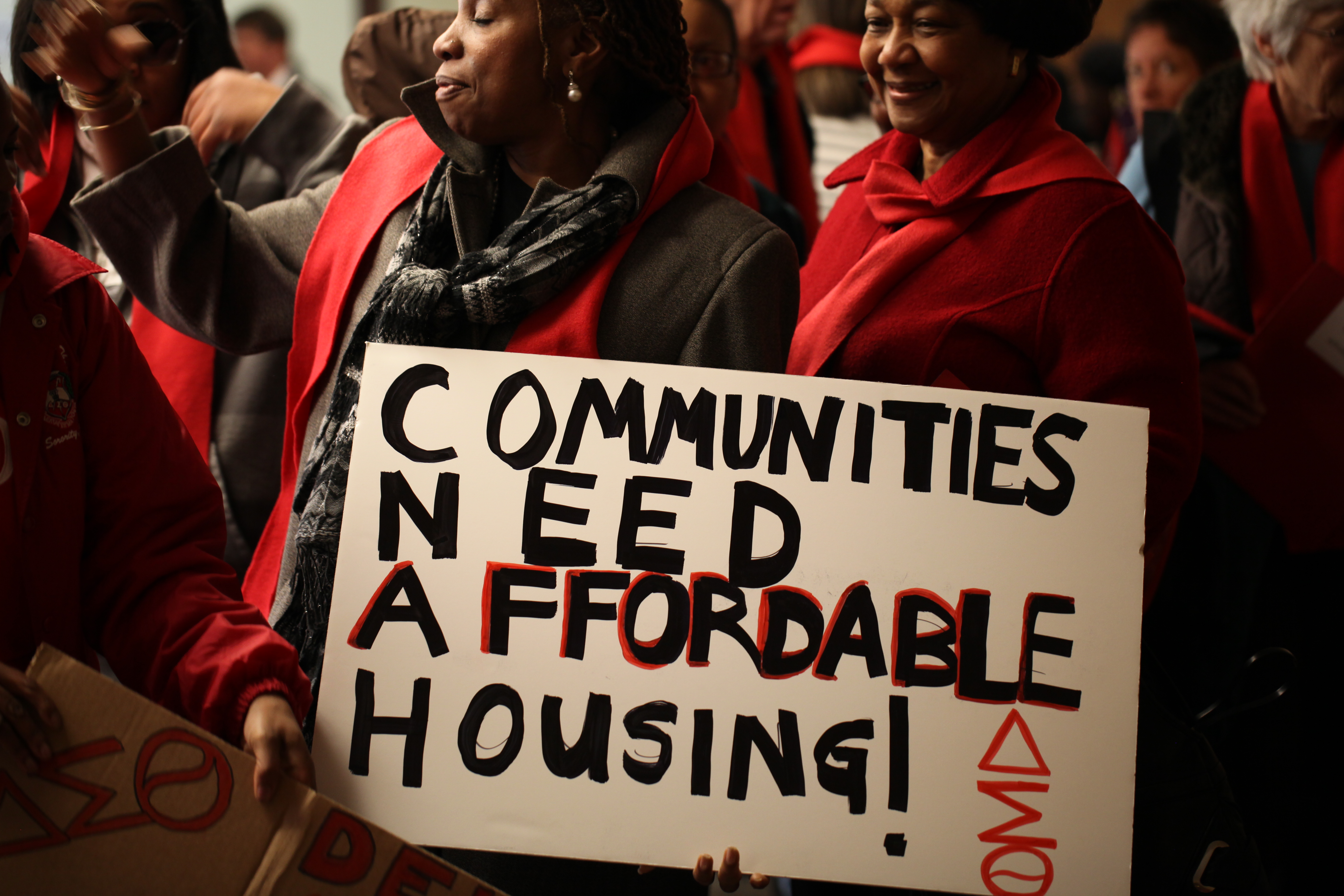 SHB 2537 - The Fair Tenant Screening Act
SHB 2537 by Representative June Robinson (38th LD) had a hearing on Thursday in the Senate, but the committee chair, Senator Jan Angel (26th LD), refused to bring it up for a vote. This means that the bill has died because last Friday was the cutoff for bills to leave a policy committee. But not all is lost. The bill had a long journey and we educated a lot of lawmakers on the importance of this issue along the way. Our sponsors and allies in the legislature are frustrated by the landlord lobby's opposition and are ready to keep the fight going in 2015. We've also made in-roads with some stakeholders who were previously opposed and we will hit the interim running to move this and other tenant protections forward. Representative Robinson, Senator David Frockt (46th LD), tenant advocate Thomas Green, the YWCA of Seattle/King/Snohomish Counties, Solid Ground, the Tenants Union, Columbia Legal Services, Partners for Our Children, parent testifiers Jason and Lila, and more, have all worked hard on this bill. We think it is safe to say that none of us are giving up, and we will be back in 2015 to eliminate this unfair and unnecessary barrier to housing.
ESHB 2368 - The Homeless Housing and Assistance Surcharge
As those of you who have read any of the flurry of news articles on this (see the list below), last week was very dramatic for this important bill. Here is a quick recap:
Thursday
ESHB 2368 was scheduled for executive session in the Senate Financial Institutions, Housing & Insurance (FIHI) Committee (being scheduled for executive session is typically needed in order to get a committee vote). But FIHI Co-chair Senator Jan Angel (26th LD) abruptly adjourned the committee before allowing a vote on it. TVW cutoff but we were able to get the audio and that recorded Senator Don Benton (17th LD), Senator Sharon Nelson (34th LD), and FIHI Co-chair Steve Hobbs (44th LD) in a heated disagreement with Senator Angel. Unfortunately, she was obstinate and would not reopen committee. Also, Senator Benton made it known at that moment that he was indeed planning on attaching a very bad amendment to the bill. This was a surprise because by all accounts he had withdrawn it. The amendment would have both fees sunset together in 2020, make the 45% set-aside of the state's portion permanent, limit that set-aside only to for-profit landlords (explicitly excluding nonprofits), and add a host of other extremely problematic requirements.
Friday
Senator Nelson (34th LD) with her caucus colleagues, attempted a floor procedure called a "ninth order" in which a bill can be pulled straight from a committee to the floor for a vote. Unfortunately the motion failed along party lines 26 to 23, but this action raised the profile of the bill dramatically. In a statement by Senator Nelson's caucus Senator Christine Rolfes and Senator Steve Hobbs had these fierce comments to share:
Image

"In my district, and in districts across the state, this is the most important source of funding we have to help the homeless. People are playing politics with an issue that should be supported by everyone. There shouldn't even be a second thought."




Senator Christine Rolfes (23rd LD)
Image

"To simply do away with a primary source of funding that actually helps solve the homeless problem is ignorant at best and evil at worst."




Senator Steve Hobbs (44th LD)
You can also watch the Ninth Order action here:
We are not done yet! Because of both the amazing advocacy coming on this issue from all over the state and because of last week's drama, the bill has received a lot of media and public attention. This helps us enormously in our efforts to seek other means of getting the bill passed. Stay tuned for updates and next steps and please help us keep the pressure on by making a call to your lawmakers today (if you didn't on Friday). And please get others to join you in your advocacy.
In the meantime, Senator Sharon Nelson and Senator Steve Hobbs deserve quick email of thanks for their extraordinary efforts last week. Please encourage them to keep fighting!
Click here to send a thank you email to Senator Sharon Nelson.
Click here to send a thank you email to Senator Steve Hobbs.
List of media reports about Thursday evening's FIHI drama:
Publicola - Morning Fizz: "What a Weird Evening."
Tacoma News Tribune - Shared Senate committee leadership turns contentious over homelessness money
The Stranger SLOG - Republican State Senator Shocks Colleagues, Kills Funding for Homeless Programs
Spokesman Review - Flurry of excitement in the Senate
Crosscut - Angel kills housing bill
Ballard News Tribune - Kohl-Welles appalled by Republicans' move to keep Washington Families out in the cold
Homeless Children's Education Act
Thanks for our friends and advocates at the UW Children & Youth Legislative Advocacy Clinic (CAYLAC) for this update:
SB 6074 had a successful hearing last week in the House Education Committee who then passed it out unanimously. It is now in the House Rules Committee for a second reading! Likewise, HB 2373 was passed out of the Senate Committee on Early Learning & K-12 Education and is now in the Senate Rules Committee. The Senate budget included funds for the small fiscal impact of the bill, but the House budget did not.
Advocates, including the Housing Alliance, urge the House to amend their Operating Budget to include the necessary funds.
Temporary Assistance to Needy Families (TANF)
The House of Representative's supplemental budget proposal reinvests $17.023 million in TANF underspend funds back into the program. This investment is an important first step to rebuilding this critical family safety net program, which was deeply cut during the Great Recession. Some of the highlights in the House budget that are closely related to homelessness and housing stability include:
Creates a 15% incentive payment to families who meet DSHS engagement requirements. In 2011, the TANF cash grant was cut by 15% and is now $372/month for a family of two, or just 30% of the federal poverty level. This incentive payment will provide much needed resources to families to help pay for their basic needs, including rent and utility bills.
Restores the Additional Requirements for Emergent Needs (AREN) assistance amount to a maximum of $750 per household per year rather than per lifetime. AREN provides emergency housing and utility assistance to struggling families and helps them avoid eviction and homelessness. This appropriation would restore a 2011 budget cut, which reduced AREN assistance to $750 per lifetime. Currently, 13.6% of TANF families are homeless, so the restoration of AREN assistance is critical.
Funds House Bill 2585, which will ensure kinship care providers who rely on unearned income, such as retirement income, have equal access to child-only TANF assistance. This bill will help low-income grandparents and other kinship care providers meet their families' basic needs when they assume care of a child relative.
The Senate's budget proposal reduces WorkFirst funding by $4.11 million, but does not cut the TANF cash grant. The Senate appropriates $52,000 to fund SB 6394, which expands kinship care providers' access to child-only TANF.
The Housing Alliance urges the legislature to adopt the House of Representative's TANF supplemental budget proposal since it makes significant investments to improve TANF families' housing stability and economic security.
Please stay tuned for more information about our policy and budget priorities. Like last week, a lot can happen this week. And we'll need your quick and consistent advocacy to ensure legislators do the right thing.
---