Calling All Affordable Housing Advocates! 
Image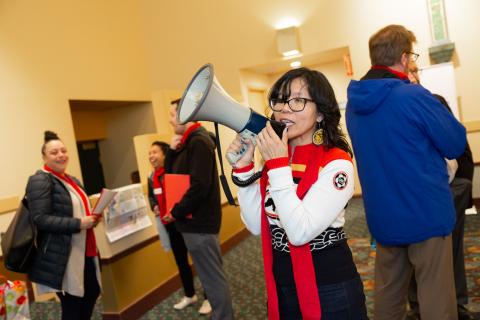 HOUSING AND HOMELESSNESS ADVOCACY DAYS 2021 
Join hundreds of fellow advocates this year at #HHAD2021! This event will be virtual and free for all attendees. 
Monday February 8 - Friday February 12
What you can expect before #HHAD2021:  
Attend a half-hour Legislative District preparation meeting with your LD Lead(s) and fellow district advocates to prepare for your lawmaker meetings. These will be scheduled the week of February 1-5. 
Register by January 22 to receive a personalized schedule according to your legislative district. This will be emailed to you two weeks in advance of #HHAD2021. 
You will be emailed a link and password to access all HHAD materials and zoom links for all events. 
We will provide zoom support, interpreter services and other accommodations by request. Please make let us know your specific needs through registration or contact Sarah Cohn at sarahc@wliha.org or 425-200-8553.  
Here's what to expect during #HHAD2021:  
Monday, February 8 @ 9:30-11:30am: Welcome & Advocacy Workshops 

February 8-12: Legislative district meetings with your lawmakers  

Friday, February 12 @ 1-2pm: Rally for Homes!  
---
Become a HHAD 2021 Sponsor! 
Image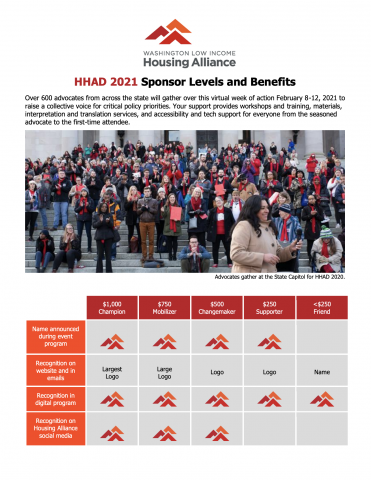 ---
---
HHAD 2021 Information  
What are Housing and Homelessness Advocacy Days? 
Join more than 600 housing and homelessness advocates in Olympia for a powerful day of action on Monday, February 8, 2021. 
At Advocacy Day you will: 
Gain inside information on housing policies; 
Attend workshops to build your advocacy skills; 
Meet your lawmakers alongside experienced advocates in pre-scheduled meetings 
Stand with the growing movement fighting for safe, healthy, affordable homes for everyone in Washington! 
Every voice makes a difference at Advocacy Day, and it's your chance to let your lawmakers know that you care about finding solutions to the affordable housing and homelessness crisis in Washington. Watch this inspiring video about the importance of advocacy and community action! 
Registration: 
Online registration is open! There is no cost to attend. REGISTER HERE as an individual or small group, or call Sarah at 425-200-8553 to register by phone.  
If you are registering a group larger than 15 people, please download a copy of this group registration form, fill it out, and send it back to teresac@wliha.org by Feb 1.  
Schedule: 
Monday morning, February 8: Welcome, Call to Action and Workshops 
Monday afternoon to Friday morning, February 8-12: Legislative District meetings (exact meeting time TBD for each district) 
Friday afternoon, February 12: Rally for Homes Celebration! 
Plus, a pre-event prep meeting! 
Monday to Friday, February 1-5: One half-hour meeting with your LD Leads and fellow advocates from your district to prepare for lawmaker meetings 
Interpretation & Accessibility: 
We want this event to be accessible to you! We are best able to accommodate requests the sooner we know about them, so please reach out ASAP if your participation would need some sort of accommodation or if you will need childcare (and also note those needs on your registration form).  
We typically need at least 2 weeks to be able to provide interpretation, translation, and childcare services, as well as make certain accessibility accommodations, so please register by Friday, January 17 to let us know what your needs are. 
Feel free to contact us with any needs or questions. 
Getting Ready:
Look up your legislative district here to find out who your lawmakers are. 
Read about the Housing Alliance's 2020 legislative priorities. 
Check out all the Advocacy Day materials in advance here! 
Getting More Involved: 
Want to volunteer? Be sure to note that on your registration form, or send us a note. 
And of course, help us spread the word on social media! Use #HHAD2021 on Twitter, Instagram, and Facebook when talking about Advocacy Day. 
---
For general questions about HHAD, email hhad@wliha.org or call Caroline Lopez at (206) 442-9455 ext. 201.