Legislative District Leads Program
Making progressive change to make sure everyone has a safe, healthy and affordable home requires an army of advocates working throughout Washington state.
With three seats in each of our 49 legislative districts, we have 147 different lawmakers to maintain relationships with. But we know that lawmakers listen first and foremost to their local constituents, and if we can mobilize in-district, they will listen.  
LD Leads build and maintain an active local base of housing advocates in their state legislative district, alerting them to take advocacy action at strategic times. Working closely with the Housing Alliance, LD Leads can strengthen  their legislative and advocacy skills while building community and developing stronger relationships with their lawmakers.  
We are seeking LD Leads in districts all over Washington. We are currently prioritizing people who are members of communities that are historically left out of policy and legislative conversations in Olympia, including people of color (particularly Black and Indigenous POC), immigrants, people with disabilities, LGBTQ+ folks, people with direct experience of homelessness, or people who are historically marginalized in other ways. This does not mean you will be automatically turned away if you do not fit these descriptors. The most important thing is that you have a working commitment to racial equity that is in alignment with the Housing Alliance's equity commitment.
 
Legislative District Lead Key Roles:
Email, call, and/or meet with state lawmakers to urge action on legislation;
Build relationships with lawmakers and serve as a trusted source of information;
Share advocacy opportunities with neighbors, friends, family, classmates and colleagues to help them become confident advocates and elevate affordable homes and ending homelessness as constituent priorities;
Serve as a district lead at Housing and Homelessness Advocacy Day in 2024!
Image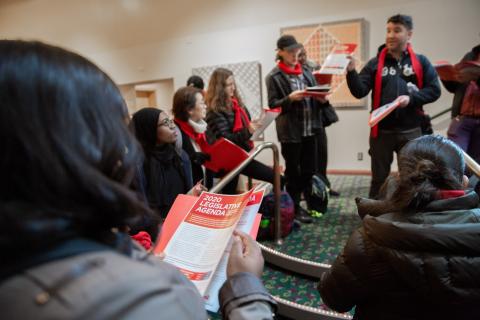 What are requirements and expectations for being an LD Lead?
You can find the specific roles that LD Leads play in the LD Lead Role Position.
Time commitments will vary depending on the time of year and on how active your district is. We estimate 5-10 hours per month for calls, lawmaker meetings, and other organizing activities, with intermittent communications.
We ask that you commit to the LD Lead role through the end of the next legislative session (mid-Spring).
Our goal is to have at least 2 LD Leads per district to allow you to share the experience with others.
 
Will there be support from the Housing Alliance? 
Yes! You will work closely with the Member Organizer to build your base, take strategic action, and set up meetings with your lawmakers. We will crowdsource necessary trainings and resources to ensure you are learning and growing in this role.
 
I'm interested in learning more. What's the next step?
The next step is to complete this LD Lead Interest Form. Once you submit it, Po Leapai, Advocacy Organizer, will follow up with you directly.
Questions in the meantime? Contact Po at pol@wliha.org.