Conference on Ending Homelessness
September 29-30, 2022


Keynote Speakers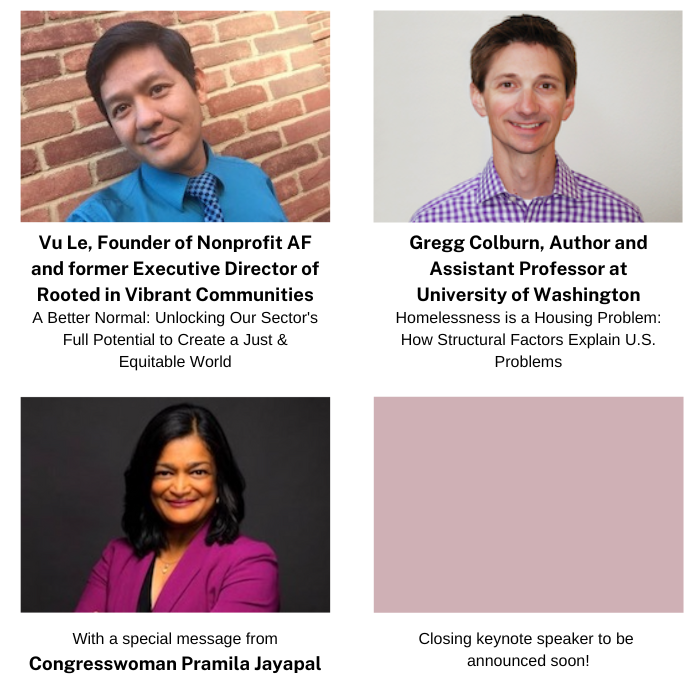 Breakout Sessions

Building Relationships with Housing First Residents to Increase the Use of Services (1.0 CEU)

This workshop will present findings from a qualitative research study of a permanent supportive housing program in Washington state that uses case management, integrated healthcare, and mental health support to extend the benefits of Housing First, beyond housing. This research identifies patterns of client engagement with medical and human services professionals, as well as strategies used by program staff to improve connections to services to ultimately strengthen health, engage clients in care, and improve overall quality of life.  
Tim Hilton, PhD, MSW, Professor, Eastern Washington University 
Kara Lopez, PhD, MSW, Assistant Professor, Eastern Washington University 


Centering Lived Experience for Transformational Organizing: This is Why We RAP
 
Join this session to hear from leaders with the Resident Action Project who are ensuring people with lived experience are at the center of changing the landscape of housing justice in Washington.
Mattye Berry-Evans, Mercy Housing Northwest 
Mercedes White Calf, Southwest Washington Advocacy Coordinator, Native American Youth and Family Center 
Michelle Pappas, Futurewise 
Mindy Woods, Program Manager, Human Services Department, City of Edmonds


Creating an Action Plan! Ensuring Housing for People with Behavioral Health Needs (1.0 CEU) 

In Washington, there are more than 49,000 Medicaid beneficiaries with substance use disorder and more than 60,000 with mental health needs who experienced housing instability in the last year. The Health Care Authority and the Housing Alliance have spent the last year developing a community-informed action plan to achieve stable housing for people with behavioral health needs in Washington. We'll walk you through the process and the recommendations here. 
John Stovall, MPA, Special Policy Projects Manager, Washington Low Income Housing Alliance 


Data Erasure, Inequities in Homelessness, and Where to Start (1.0 CEU) 

Data is at the center of conversations on homelessness and has been used to keep the BIPOC community disproportionately homeless. We will discuss ways data has been used in the past, the impacts of present data, and how and why we need to address it in the future. 
Sam Wallingford, MSC, Program Manager, Washington State Department of Commerce 


Discharge Planner's Toolkit for Reducing Homelessness (1.0 CEU) 

Historically, individuals have been discharged back into homelessness from inpatient settings due to the ever-changing housing system. Please join the Division of Behavioral Health and Recovery to learn about an exciting tool to support all service providers in ensuring early interventions in connecting individuals to housing and related resources in their community. 
Maureen Bailey, Recovery Support Services Supervisor, Washington State Health Care Authority 
Kimberly Castle, CPC., Supportive Housing Program Manager, Division of Behavioral Health and Recovery, Washington State Health Care Authority 
Matt Christie, MA, Foundational Community Supports Program Administrator, Division of Behavioral Health and Recovery, Washington State Health Care Authority 


Diversion, Housing Outcomes, and Racial Equity: Findings from a Statewide Study (1.0 CEU)
 
Diversion is an innovative approach used in communities throughout Washington to help resolve housing crises quickly and permanently. This session shares findings from a statewide, mixed-methods study using interviews and statistical analysis to examine the impact of Diversion on housing outcomes and the extent to which Diversion is racially equitable. 
Matt Lemon, MPA, Director of Research and Evaluation, Building Changes 
Kristin J. Ward, PhD, MS, Founding Partner, Clarus Research 


Foundational Community Supports Transition Assistance Program (FCS TAP) (1.0 CEU) 

Short-term, flexible funding resources like FCS TAP help supportive housing program enrollees develop individualized solutions to housing instability while lowering financial barriers to affordable housing. Join this session to learn about FCS TAP – a new flexible funding resource serving Washington's FCS Supportive Housing network. 
Scott Tankersley, MSW, Housing Subsidy Program Manager, Division Behavioral Health and Recovery, Washington State Health Care Authority 


Hiding in Plain Site: Implicit Bias (1.0 CEU)

Did you know that our brains are naturally biased? Let us explore the functions of unconscious bias together and navigate their impact on our decision-making processes. We will examine our own background and identities so we can interact more authentically with colleagues, participants, and the community at large.
Pat Tucker, MBA, MA, Director of Diversity, Equity, and Inclusion and Senior Program Director, Advocates for Human Potential
Housing & Healing: A Body of Work (1.0 CEU) 

At the intersection of housing, trauma recovery, racial equity, and cultural and indigenous knowledge is healing. This workshop will present learnings and practices from Building Changes' 2022 homelessness funding strategies – in partnership with Tribes and Black, Indigenous, and People of Color (BIPOC) organizations. What is healing? How does it look in practice? What are the benefits? Join us for an interactive and lively discussion as to how we move forward from the homelessness experience. 
Edgar Longoria, Senior Manager, Grantmaking & Capacity Building, Building Changes


Housing for People with Intellectual and Developmental Disabilities (1.0 CEU) 

Self-advocates with intellectual and developmental disabilities have been fighting for housing justice for decades. Washington State does not have a good track record. It still maintains four state operated institutions and develops plans based on institutional living – ignoring client rights and person-centered best practices.
Ivanova Smith, Faculty, Lend Program, University of Washington 
 

Housing Justice: Ending Housing Discrimination Based on Involvement with Criminal Legal System 

Everyone – no matter our race, income, or past – should have access to a home. Currently, landlords deny our rental applications based on a past conviction or arrest. Learn how the Housing Justice Act will make a meaningful difference in addressing housing disparities and ensuring that everyone has access to housing. 
Karen Lee, JD, CEO, Pioneer Human Services 
Kelly Olson, MPA, Policy Manger for the Civil Survival Project, Civil Survival 
Michele Thomas, Director of Policy and Advocacy, Washington Low Income Housing Alliance  


Housing Options for Survivors of the Sex Trade (1.0 CEU) 

Eighty-four percent of people involved in the sex trade have experienced homelessness. REST provides emergency shelter, a residential program, and permanent housing to survivors. This session will share housing models and best practices in offering person-centered, harm reduction services that meet the unique needs of survivors of the sex trade. 
Audrey Baedke, Program Manager, REST 
Mary Yeldon, Housing Specialist, REST 


Leading the Way to Ending Youth Homelessness in Walla Walla through the Anchor Community Initiative (1.0 CEU) 

Walla Walla has decreased youth and young adult homelessness by more than 60% in the last year and a half through their work in the Anchor Community Initiative (ACI). In this session, experts from A Way Home Washington and on the ground in Walla Walla will share the data, the data-driven and justice-centered strategies they are using, and what they have learned in their journey to end youth homelessness by the end of 2022. 
Ashley Barnes-Cocke, Anchor Community Initiative Project Director, A Way Home Washington 
Elisha Pritchett, Data Capacity Building Coordinator, A Way Home Washington 
Sam Jackle, Anchor Community Initiative Data Coordinator 


Mapping Out Washington's State and Federal Housing Resources (1.0 CEU)
 
Safe, stable, and affordable housing remains out of reach for many Washingtonians, ultimately undermining mental well-being and access to behavioral health care. Join this session to learn about Washington's array of supportive housing services and rental assistance programs, each aiming to eradicate financial barriers to housing stability for individuals with behavioral health conditions. 
Kimberly Castle, CPC., Supportive Housing Program Manager, Division Behavioral Health and Recovery, Washington State Health Care Authority 
Dani Rylander, Permanent Housing Subsidy Program Manager, Office of Supportive Housing, Washington State Department of Commerce 
Scott Tankersley, MSW, Housing Subsidy Program Manager, Division Behavioral Health and Recovery, Washington State Health Care Authority 
Whitney Joy Howard, MSW, Statewide Lead Supportive Housing Program Manager, Aging and Long-Term Support Administration, Washington State Department of Social and Health Services  


Navigating McKinney-Vento and the School System (1.0 CEU) 

Training participants will have an opportunity to gain a deeper understanding of how to navigate the public school system and its supportive programs and roles built for students and families experiencing homelessness. Centering the importance of equitable access, we will highlight key pieces of the McKinney-Vento mandate and showcase examples of effective school/housing partnerships. 
Samie Iverson, MSW, Senior Manager, Education Strategy, Building Changes 
Mehret Tekle-Awarun, Director of Practice Innovation, Building Changes 


Trauma-informed Property Management (1.0 CEU) 

Navigate the sometimes-contested dynamics of the landlord/tenant relationship with new tools and skills emphasizing collaboration, empathy, and a leveling of power. Participants will learn the basic tenets of trauma-informed care, awareness of power dynamics in landlord/tenant interactions, incorporation of trauma-informed practices in the landlord/tenant arena, and critical engagement with policy development using a trauma-informed lens. 
Ami Manning, Director of Housing Services, Transitions 
Jaime Borgan, MSW, PhD Student and Adjunct Professor, City University of New York, Gonzaga University 


Workforce Trauma Among Homeless Service Providers: A Statewide Study 

Last year, the state operating budget created a task force to conduct an assessment of the state's COVID response through ESSB 5092 – including funding to develop interventions and responses to workplace stress and trauma experienced by homeless services providers. This session will explore the emerging themes from the Homeless Service Providers Study & Survey and will engage participants in the recommendation development process. 
Melodie Garcia, MPA, Project Manager, BDS Planning & Urban Design 
Jackie St. Louis, LMHC, Owner, D-Fine Concepts; Tender Tongues Counseling 


Coming soon... 

Addressing Workforce Trauma for Homeless Service Providers 
 
Investing in Our People for Workforce Sustainability: Increasing Pay and Benefits for Front Line Service Providers 
 
State Legislative Roundtable 


Also, check back soon for information on this year's affinity group caucuses, wellness sessions, and networking spaces!