Recent Updates
In his budget proposal released this week, Governor Inslee went big and proposed the kind of bold investments needed to make real progress on solving our state's affordable housing and homelessness crisis. We commend the Governor for acting with urgency by putting forward an unprecedented investment in affordable homes. His proposal would fund 7,500 newly affordable homes in the next two years, and 26,700 over eight years.
During our last strategic planning process, we recognized that our vision, mission, and values didn't reflect some of the most central aspects of our work. Most importantly, they were missing language centering equity and racial justice and the importance of leadership of people and communities most impacted by housing injustice.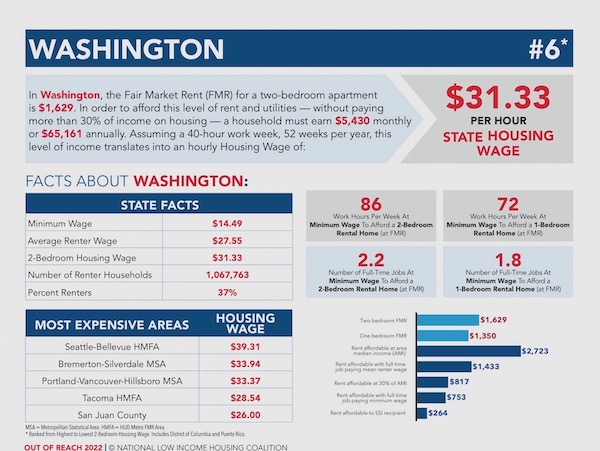 In order to afford a modest, two-bedroom apartment at fair market rent in Washington, full-time workers need to earn $31.33 per hour. This is Washington's 2022 Housing Wage, revealed in a national report published today, and is the 6th highest state housing wage in the U.S.
CHECKS
Checks made payable to the Washington Low Income Housing Alliance can be mailed to: 100 West Harrison, Suite N220 Seattle, WA  98119.
IN-KIND DONATIONS
In-kind donations of snacks, bottled water, and cash cards help keep costs down for our annual Housing and Homelessness Advocacy Day and other special events. Contact itzchelb@wliha.org for a current list of in-kind donation needs.
AMAZON SMILE
AmazonSmile donates a percentage of your purchase made at smile.amazon.com. Click here to learn how to designate the Housing Alliance as your AmazonSmile charity. (We love buying local, and hope you do too. We also know that many of our supporters shop with Amazon and this is a way for your transaction to support good work.)
PLANNED GIVING

You can help future generations have the opportunity for a safe, healthy, affordable home while still providing for your loved ones through a planned gift. For more information about achieving your long-term philanthropic goals, please contact rachael@wliha.org or call 206.442.9455 x201.
Have you already named the Washington Low Income Housing Alliance the beneficiary of a will, trust, retirement plan, or life insurance policy? Please contact us so we can acknowledge your gift.